Event Information
Location
IT 125 Theater, IT building
National University of Ireland, Galway
University Road
Galway
Ireland
Description
Dr Steve Cross is visiting Galway to participate to Bright Club on the 12th of April. As part of his trip to the West of Ireland, he will also give a seminar on the multiple benefits of engaging the general public in Science. The welcome and opening remark will be given by NUI Galway registrar and vice president Pól Ó'Dochartaigh.
Book early for this unique and informative event, tickets will go fast!

The seminar will take place in IT125 - THEATRE (125), FIRST FLOOR, in the IT building, at 4pm.

Map to location: IT 125 is in location 16 indicated on the campus map here: http://www.nuigalway.ie/media/buildingsoffice/files/maps/M12122_General_CampusMapWEBpdf220217.pdf
Steve Cross is the creator of Bright Club and one of the current leaders in public engagement in science in Europe. He was head of public engagement in UCL for 7 years and has created strategies for very prestigious institutions in the UK, including the Francis Crick Institute and the Farr Institute London. He is currently a Wellcome Trust Engagement Fellow, an Honorary Fellow of the British Science Association, chair of the Royal Society of Biology's Science Communication Awards.
You can find more details about Steve here.
Download the poster of the seminar here.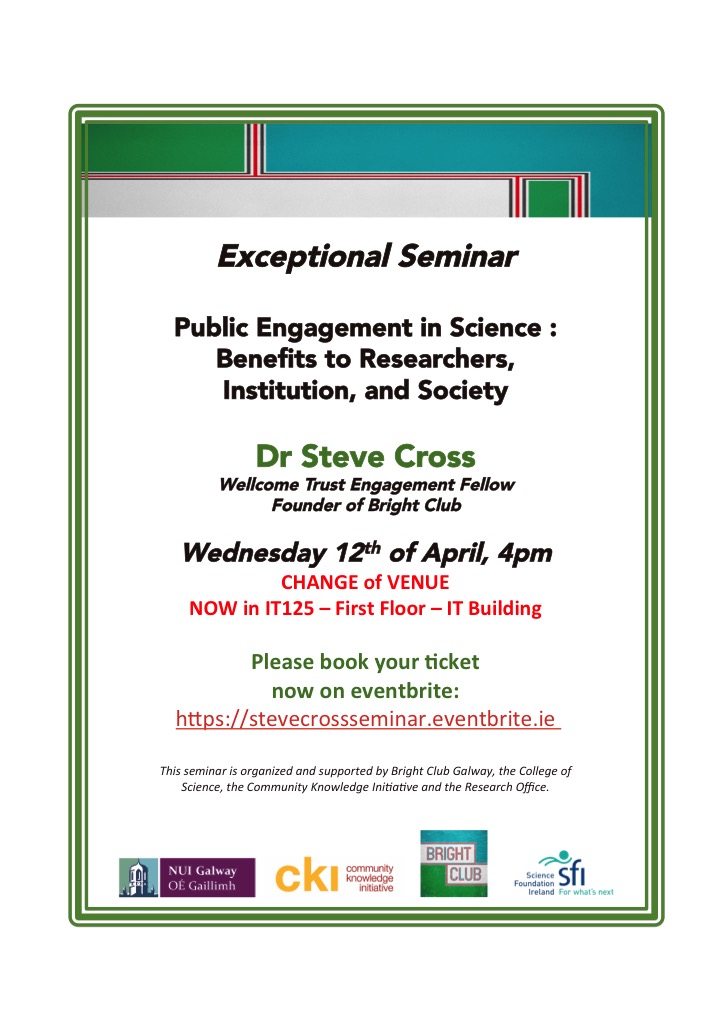 Date and Time
Location
IT 125 Theater, IT building
National University of Ireland, Galway
University Road
Galway
Ireland