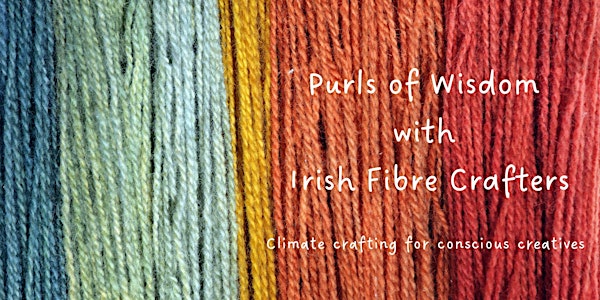 Purls of Wisdom with Irish Fibre Crafters
Climate crafting for conscious creatives! In this workshop, we'll combine science with art to raise awareness of Ireland's changing climate.
When and where
Location
Labane Community Hall Labane Community Hall Labane Ireland
About this event
About this workshop
In this free workshop, crafty scientists from iCRAG (Science Foundation Ireland Research Centre in Applied Geosciences) and fibre experts from Irish Fibre Crafters will come together for a half day of crafting and chatting. You will have the opportunity to learn about Irish climate science and how this links to using locally sourced sustainable fibres in your crafting. You'll also have the chance to have a go at a number of fibre crafts, including spinning, felting and weaving.
By the end of the workshop you will have:
Created your own climate craft
Contributed to our group climate crafting project
Learned more about Irish climate science
Learned more about local, sustainable fibres
Had fun!
About Purls of Wisdom
Purls of Wisdom is a new, yarn and fibre craft based approach to raising awareness of Ireland's changing climate. The Earth's climate is warming. This is an indisputable fact. We know sea levels will rise globally, we've seen intense cyclones and heard about the severity of El Niño on the news… but how is the changing climate affecting Ireland specifically? Purls of Wisdom aims to let the imagination of yarn crafters run free to create visual art to display the effects a warming planet is having on the Irish climate.
F.A.Q.
Do I have to know how to knit/crotchet/weave/spin/etc.?
Absolutely not! This workshop is all about having a go and learning.
Is there an age limit to the workshop?
Nope. Participants of any age are more than welcome.
Is there a charge for this workshop?
No! This workshop is completely free.
Do I need to bring anything with me for this workshop?
Not unless you want to. We'll have tools for you to borrow, but feel free to bring your own if you'd like to.
What crafts will I have chance to take part in?
We expect to offer knitting, crotchet, spinning, felting and weaving.
If you have any further questions, please don't hesitate to contact Elspeth at elspeth.sinclair@icrag-centre.org