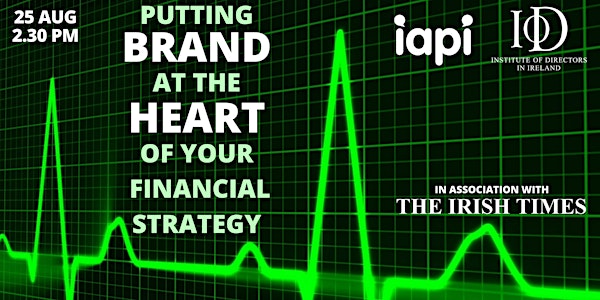 Putting Brand at the Heart of your Financial Strategy
Long lasting Brand Communication is an Investment, not a Cost - Charley Stoney, CEO, IAPI
About this event
Putting Brand at the Heart of your Financial Strategy is an annual collaboration between The Institute of Directors in Ireland and IAPI, the body for the commercial creativity and communications sector in Ireland.
This annual event has proved extremely popular and is the 4th in the series. It is designed for senior business Leaders, and features executive speakers from different industries who examine the relationship between long lasting brand strategies and business performance. The title speaks for itself as the purpose of the seminar is to demonstrate why brand strategies need to be part of an organisation's financial and business strategy to create responsible growth.
This is true now more than ever, as the fate of a brand lies in the hands of today's consumers who are increasingly conscious of a brand's environmental, political and social stance in the world. Transparency and authenticity are required to build trust with consumers, and this does not happen overnight, and it requires investment to build long lasting growth.
Speaker Line-Up
Benjamin Granger, Chief Financial Officer, Irish Distillers
Brian O'Sullivan CDir, Managing Director, Keelings Retail
Deirdre Waldron, CEO, TBWA\Dublin
Louise Bannon, Executive Director – Head of Marketing, daa