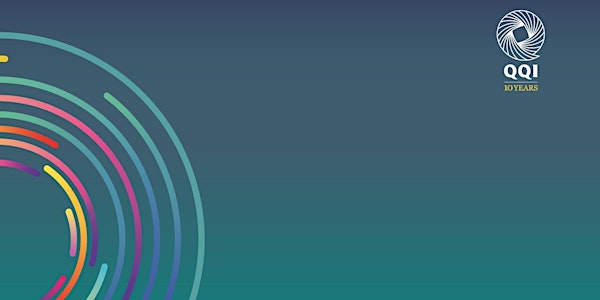 QQI 10th Anniversary Conference
QQI will host its 10-year anniversary conference on Tuesday 18 and Wednesday 19 October 2022 in the Croke Park Conference Centre
When and where
Location
Croke Park Jones' Road Drumcondra Ireland
About this event
Quality and Qualifications Ireland (QQI) invites policy-makers, academic management, learners, front-line educators, support staff and quality assurance teams in community and voluntary education, English language education, further education and training, and the higher education sectors to our 10-year anniversary conference.
QQI will host its anniversary conference for 1.5 days on Tuesday 18 and Wednesday 19 October 2022 in the Croke Park Conference Centre.
National and international experts will share their perspectives on the many factors that currently and in the future will, impact on our education and training qualifications and quality assurance systems.
The theme of this face-to-face event is "Strengthening strategic partnership to effect system change" linking a decade of QQI's collaborations with our stakeholders to our future ambitions to continue our work together. Our conference will consider the need to anticipate disruptive change and the system challenges ahead as well as unique opportunities to be creative and innovative.
Take this opportunity to network in a face-to-face setting with national and international colleagues to consider topics including:
Are we ready for the digital impact on our education system? How are we embracing it and how are our providers planning for it?
What are the new parameters around internationalisation? New providers, new tools and international QA developments.
Are we getting the most from our strategic partnerships with our learners?
Are we ready to manage our fundamental values on academic integrity? Don't miss the launch of a global academic integrity initiative with international partners!
What are the qualifications of the future? Let's talk about radical learning pathways and new partners on the NFQ.
Redeveloping our National Framework for Doctoral Education - enhancing the national research profile and other work you need to know about.
The future of quality assurance: What will external QA look like? How will equality, diversity, inclusion and climate action become a sustainable part of the education system?
Leaders' perspectives on the future of Irish education and training.
We hope you can join us at this in-person event where we will connect with colleagues and other professionals from a wide range of backgrounds.
Mark the date in your diary and feel free to circulate this invitation to colleagues within your organisation.
We look forward to sharing details about our event over the coming months and seeing you face-to-face in October.
The conference delegate rate is €100. (Payable only through Eventbrite)
For any queries, please contact us at conference@qqi.ie.
Cancellation Policy
If you are unable to attend for any reason, you may substitute a colleague to attend in your place by contacting conference@qqi.ie. Registered guests who cancel after Thursday 6th October will not receive a refund.