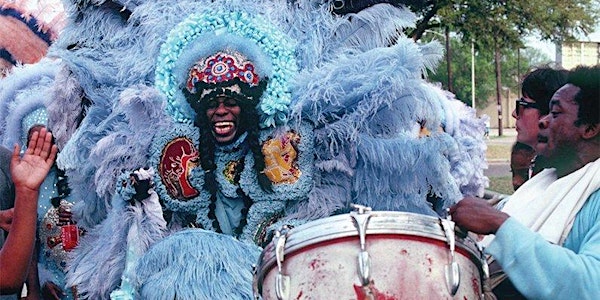 QUB Anthropology Seminar - Jeroen Dewulf (UC Berkeley)
From the Kingdom of Kongo to Congo Square: Kongo Dances and the Origins of the Mardi Gras Indians
By Queen's University Belfast
When and where
Date and time
Starts on Tue, 9 Mar 2021 08:15 PST
About this event
On 9 March(4.15pm, UK time), Professor Jeroen Dewulf (UC Berkeley) will present on 'From the Kingdom of Kongo to Congo Square: Kongo Dances and the Origins of the Mardi Gras Indians'.
All registered attendees will receive a confirmation email containing information about joining the event via Microsoft Teams.
The speaker will present a 45-minute paper, followed by discussion and Q&A.
Abstract
This presentation focuses on one of New Orleans' most enigmatic performance traditions, the Mardi Gras Indians. By interpreting the tradition in an Atlantic context, Dewulf traces the "black Indians" back to the ancient Kingdom of Kongo and its war dance known as sanga(mento). He shows that good warriors in the Kongo kingdom were per definition also good dancers, masters of a technique of dodging, spinning and leaping that was crucial in local warfare. He argues that enslaved Kongolese brought the rhythm, dancing moves and feathered headwear of sangamentos to the Americas in performances that came to be known as "Kongo dances." By comparing Kongo dances in Latin America, the Caribbean and Louisiana, Dewulf demonstrates that the dances on New Orleans' Congo Square were part of a much broader Kongolese performance tradition. He links that tradition to Afro-Catholic mutual-aid societies that honored their elected community leaders or "kings" with Kongo dances. Dewulf's groundbreaking research suggests a much stronger impact of Kongolese traditions on the development of African-American cultural heritage and identity than what was hitherto assumed.
Bio
Jeroen Dewulf is a Professor at the UC Berkeley Department of German & Dutch Studies and current director of Berkeley's Institute of European Studies. Before coming to Berkeley, he taught at Ghent University, in Belgium, the University of Porto, in Portugal, and the University of São Paulo, in Brazil. His most recent books are The Congo in Flemish Literature (2020), From the Kingdom of Kongo to Congo Square (2017), and The Pinkster King and the King of Kongo: The Forgotten History of America's Dutch-Owned Slaves (2017).