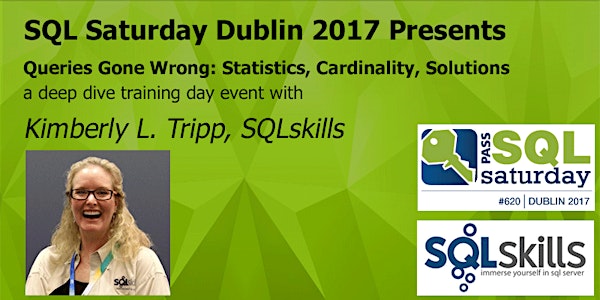 Queries Gone Wrong: Statistics, Cardinality, Solutions
When and where
Location
Microsoft Auditorium, EPDC2 South County Business Park Leopardstown 18 Dublin (Luas Stop: Central Park) Ireland
Description
Have you ever wondered why SQL Server did what it did when processing your query? Have you wondered if it could have done better? Query estimates/statistics are often at the key to understanding; this session will explain the what, why, and how about estimates!
Most of the time SQL Server returns data quickly – except when it doesn't. Ultimately, what you see in the plan, just doesn't seem to make sense. Why? Where did it come up with this plan? From one side, Transact-SQL is a declarative language that details what data you need but without information about how SQL Server should get it. Join order, predicate analysis – this is what SQL Server has to decide based on your query's input? But, what should be processed first? Which table should we use to "drive" the join? Usually, it's the table with the smallest number of rows that match your query's predicates. But, how do they know which has the smallest set before they process the data? Statistics!
There are numerous reasons why query performance can suffer and in this full-day workshop, Kimberly will cover a number of critical areas and for each - show you the behaviors, execution plans, troubleshooting techniques, and most importantly, possible solutions. This full-day workshop is about solving your query performance problems. Each problem has a different way of approaching it and you'll walk away with a plethora of strategies to troubleshoot and tackle even gnarly query problems. Stop with the "sledgehammer" approaches (updating statistics, rebuilding indexes, recompiling plans, clearing cache, restarting SQL Server) and solve the problem. In this full-day workshop, you'll learn much more finessed ways to solve query plan quality problems.
Topics covered include understanding / maintaining statistics, handing VLTs / skewed data, distribution problems, troubleshooting common and advanced scenarios, and how to best utilize the cardinality estimation models (and trace flags) available in SQL Server versions 2008-2016.
Kimberly Tripp (blog | twitter) Kimberly has been a Microsoft SQL Server MVP and a Microsoft Regional Director for over 10 years; she's an author, consultant, and top-rated speaker having spoken at PASS, TechEd, SQLintersection, and numerous other events around the world. She has over 20 years of experience designing and tuning SQL Server solutions with a focus on optimizing procedural code, indexing strategies, statistics, and partitioning. When she's not tuning SQL servers, she's diving and photographing all sorts of underwater critters such as frogfish with her husband, Paul S. Randal.
Schedule

Registation is from 08:15am

Class is from 9:00 to 18:00 with coffee breaks and lunch