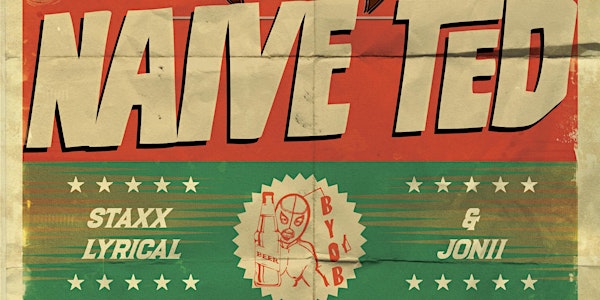 rabble's BYOB Smackdown In Jigsaw with Naive Ted, Joniii & Staxx Lyrical
When and where
Location
Jigsaw 10 Belvedere Court Dublin 1 Ireland
Description
Featuring:

Naive Ted
Joniiii
Jill Woodnutt
Greetings crew, we're slumbering into life for 2018 and are gonna kick things off with a partay down in the parish hall. All funds from this one will be going directly into #rabble15 planning for which is already well under way.
Naive Ted is parts performer, parts turntablist, some parts pile-driver of sounds. He's mad for tea, wrestling, Wu-Tang and Steve Reich. He's half of one man skratch duo Deviant & Naive Ted, and is at least partly responsible for an extensive back catalogue of surrealist hip-hop music. Notable releases include the trad folk skratch mess that is Send In The Hounds, the eponymous Vince Mack Mahon LP and the cult rap classic 'Orson Welles' with rhyme partner Sebi C.
Starting off as a scratchologist extradordinaire he has relentlessly pursued new avenues in creating music, using samplers, beat machines, turntables, laptops and a whole range of contraptions to produce music that constantly blend boundaries and bend genres.
Since Ted finally came out from the shadows to perform in public at the Community Skratch Games in 2014, HIS performances have since gained notoriety in Irish music circles. Echewing the notion that this type of music can't be presented with drama, humour and a real physical presence. One of the headline acts at last year's Open Ear festival he took the whole thing to another level.
Catching him at an intimate venue like Jigsaw isn't to be missed
https://soundcloud.com/deviantandnaiveted
http://www.rabble.ie/2018/01/08/scratch-that-itch/
Jonii is originally a classically trained violinist whose musical education and sound straddles the divide between the organic instrument and the electronic bass world. She has worked with many prominent Irish producers across many different genres such as Eomac, kaboogie !, Deviant, t-woc and major grave. Her 2015 single Running is already a modern classic and her collaboration with The Cyclist When We All Break Down was on many tracks of the year list in 2017. Her DDR show JK Rollin is savage altogether. Jigsaw was absolutely hopping the last time she played
https://soundcloud.com/jonistring
Jill Woodnutt is Staxx Lyrical. She hosts a show on DDR which is dedicated to old-school, independent and underground hip-hop. It airs every second Saturday. She brings the hype.
https://www.mixcloud.com/DublinDigitalRadio/playlists/staxx-lyrical/