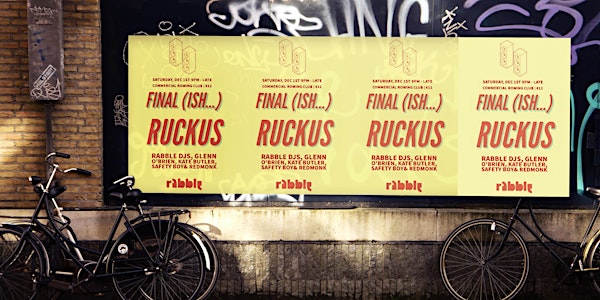 Rabble's FInish (ish) Ruckus.
When and where
Location
Commercial Rowing Club Dublin Long Meadows Islandbridge Dublin 8 Dublin 8 Ireland
Description
If it's one thing we know how to do in rabble it's how to bring the ruckus. Logistical nightmares have forced us to push out our exhibition and the planned "best of" collection into the New Year. But, we're coming through with a big old bash in the Commercial Rowing Club on the banks of the Liffey for our FINAL (ISH) party-rave
We've thrown some banging parties over the years and this one promises to top them with some of Dublin's best selectors set to blast the dancefloor. It's a deadly little venue with a cheap-ass bar and a smoking area over-looking the river.
Hop a Luas out to Heuston and grab a cab with some mates to get there. The 26, 66, 66a, 66b and 67 all zoom out to the venue too. It's a piece of piss, fifteen-minute journey affair.
The perfect place to lose your shit after the big housing protest march.
Line Up
Glenn O Brien
Kate Butler
Safety Boy
Redmonk