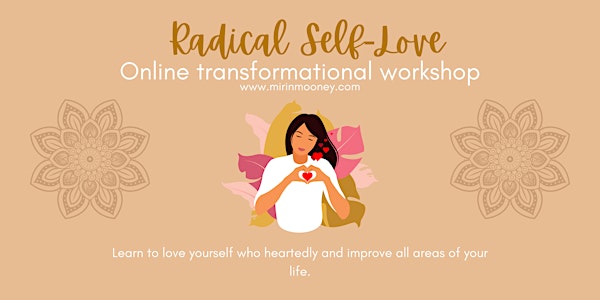 Radical Self Love
Learn to Love yourself wholeheartedly and improve all areas of your life
Refund Policy
Contact the organizer to request a refund.
About this event
Understanding and practicing self-love is an essential part of any healing journey, and if you find yourself knowing the change that needs to happen but struggling to implement or fully grasp it, then self-love might be exactly what you need. Living in a world that literally profits off of you not loving of yourself, learning to love yourself whole heartedly becomes a rebellious act.
A lack of self-love can show up in many ways, including:
a strong inner-critic
not believing in yourself
staying small
not going after your dreams
disliking your body
feeling inadequate
always putting the needs of others before your own
self-doubt
unhealthy relationships
lack of boundaries
self-sabotaging
…
So many of our problems would be fixed if only we could learn to love ourselves wholeheartedly, for when we do we come into alignment with who we truly are, and start to fulfil our soul purpose. We gain the confidence to chase after our dreams, speak up, and express our true authentic self.
In this workshop you will learn about:
What self-love is and isn't
Why you lack self-love, how it shows up, and how to change that
Rewiring your brain
5 self-love languages
Intimacy
Self-love practices
How to love yourself wholeheartedly
Are you ready to take your healing to the next level?
Your relationship with yourself is the foundation of all your relationships: with others, food, passions, planet, career, etc. When you fall deeply in love with yourself, all areas of your life improve, along with your overall life experience. By embarking on this journey of radical self-love you contribute to creating this new earth that so many of us dream of. When you consistently make choices that promote your wellbeing you radiate joy and authenticity, which is so magnetic, and in turn inspires others to embark on this journey too. Because an alternative way of living is always possible – we just have to choose it.
Includes:
1-1.5 hour workshop
Workbook
1 month access to workbook
1 month access to group forum for questions and support
A transformational experience