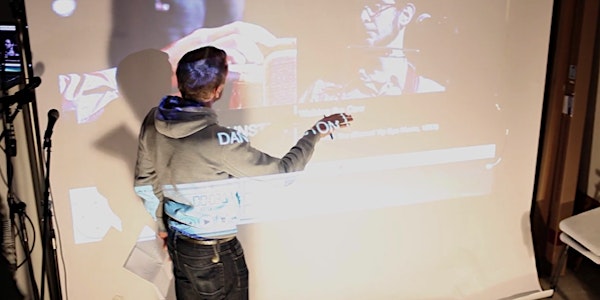 Radio Joinery—Panel Talk with NCAD Art in the Contemporary World
A panel talk presented by ACW together with Pallas Projects looking at the 3-day event 'Radio Joinery'.
About this event
A panel talk presented by ACW together with Pallas Projects looking at the 3-day event 'Radio Joinery', within the history, programming context of The Joinery DIY space, with panellists Miranda Driscoll and Marysia Wieckiewicz-Carroll.
Presented as part of the online exhibition Periodical Review X 2011—2020 ~ 20 works x 20 selectors chosen from the last 10 years.
Radio Joinery took place live over three nights, Thursday 22nd to Saturday 24th November 2012, under the banner of Sound +/- Vision, it included contributions from Isabel Nolan and Bea McMahon, Beautiful Unit, Neil Watkins, Donal Dineen, Adrian Duncan and took place alongside an exhibition by (then recent) MA ACW student Laura Smith entitled "The Alternative Is …''. The event was recently selected by Paper Visual Art for the exhibition Periodical Review X, for which selectors were invited to choose an artist, artwork or project to represent and revisit aspects of contemporary Irish art culture over the past ten years.
There is a whole generation of artists and musicians for whom The Joinery was a unique and formative space, both in terms of their practice and as a community. Yet a common problem for artist-run and self-organised spaces is that in the rush to make these projects happen, there is little opportunity for the luxury of reflection. In the case of Radio Joinery, only scant recorded material or documentation of this live event remains, instead its presence and value is represented in the memory and practices of those who organised, took part, or witnessed it.
"The Joinery, founded by Miranda Driscoll and Feargal Ward in 2007 and closed in 2014, was a not-for-profit, DIY space located in Stoneybatter, Dublin 7. It was a valuable, multidisciplinary venue for both emerging and professional artists that existed at a time when people had very little money but were trying to make things happen anyway. Organised by Marysia Wieckiewicz-Carroll in collaboration with the Joinery, Radio Joinery was an exciting live event that took place over three nights in 2012 and was also broadcast online. Like the many events that took place there, Radio Joinery brought people working in many different disciplines – music, theatre, film, writing, and art – and the local community together. There is no extensive archive for this project, but what remains are clips of video, lists of performances, snaps of activity, and rich shreds of memory." – extract from a text by Paper Visual Art for Periodical Review X
See link for more info, video clip, and full Radio Joinery programme details
Periodical Review is an annual survey of contemporary art from around Ireland. The tenth in the series takes place largely online, with a selection of work installed 'in real life' in the gallery. For this milestone 10th iteration of the long-running curatorial project Pallas Projects asked 20 selectors from around the country to each choose a work from the last decade. Together these provide a multi-subjective survey of art made over a 10-year period of epoch-defining social transformation. In addition for this special, and much changed, iteration of Periodical Review, PP/S commissioned essays by James Merrigan and Chris Hayes which are available alongside the online exhibition.
View exhibition here
______________________________________________________________________________________________
Contributors:
Miranda Driscoll is an arts manager and multidisciplinary cultural producer & curator, and is Interim Executive Director of Solas Nua, Washington D.C. She was the Director of Sirius Arts Centre in Cobh, Co. Cork from 2014–2019, and co-founded and directed the Joinery in Dublin from 2007–2014.
Marysia Wieckiewicz-Carroll is an independent curator and art writer. She was one of the co-editors of Paper Visual Art Journal between 2014-2018. She is the founding director and curator of Berlin Opticians Gallery, Dublin
Paper Visual Art Journal (PVA), established in 2009 and based in Dublin and Berlin, publishes journals and books with a focus on art criticism and literature. PVA editors include Adrian Duncan, Nathan O'Donnell, and Niamh Dunphy.
ACW MA/MFA Art in the Contemporary World is an intensive study programme concerned with the relation of art practices to critical, theoretical, historical and social contexts. Throughout their period of study, participants undertake close analysis of the work of key contemporary artists, curators, critics and theorists, with a view to developing an expanded and enriched sense of the place and potential of art in today's world. Art in the Contemporary World aims to function as a forum for debate on contemporary art theory and practice, as well as a space of experimentation in research, writing, curating and art-making.
Pallas Projects/Studios (founded 1996) is a not-for-profit artist-run organisation dedicated to the facilitation of artistic production and discourse. PP/S addresses the necessity of providing space for artistic production and exhibition, and foregrounds the role of contemporary art as a constant agent of discourse and social transformation, expressed through a variety of spaces, exchanges, off-site projects, exhibitions, talks, resource programmes, and publications. PP/S runs an open-call Artist-Initiated Projects programme of exhibitions, and engages in research, advocacy and support that promotes the value of grassroots and artist-run practices, including the major research and publishing project Artist-Run Europe: Practice/Projects/Spaces (Onomatopee 2016).