About this Event
Kick start your Festive Season with Rainbow Phil's Christmas Special, featuring a selection of your kids favourite songs plus an introduction to the classic Christmas songs!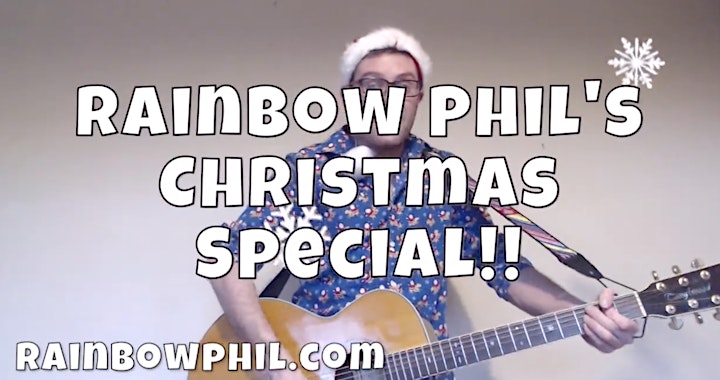 For the fourth year in a row, Rainbow Phil has NOT been asked to switch on the Christmas lights in Clontarf (I know, it beggars belief!), so we will be having our very own little Christmas lights switching on countdown instead 🙂
There will be cracker pulling a plenty, plus fabulous festive prizes for whoever wears the most God-awfully garish Christmas jumper – either grown up or child!
The centre piece of the show will be Rainbow Phil's Super Christmassy Mega-Medley!! Imagine, if you will, a mash up of "Oh Christmas Tree" running seamlessly into "Rocking Around The Christmas Tree" suddenly turning into "Deck the Halls" before metamorphosing into "Last Christmas" by Wham – it's hard to imagine I know, but that is exactly what will happen
There will also be a big box of treats for the kids (both big and small!) and a couple of other surprises along the way!
If there is a particular Christmas song you'd like me to include, then drop me a message as soon as you can so I can get working on it, but please note: I will not be doing Mariah Carey (no matter how nicely she asks) and Frozen is NOT a Christmas song.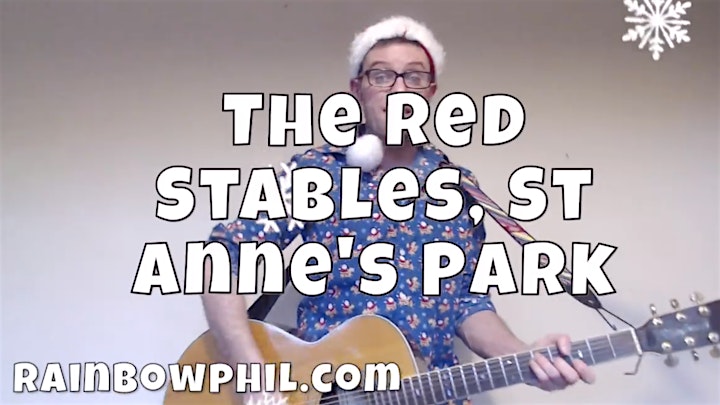 IMPORTANT INFO/FAQS
What age group is this suitable for?
Primarily aimed 2-4yr olds, but kids up to around the age of 6 will still have a good time. Kids under 2 will still have a good time, there is no charge for babies under 6months.
Do I need to buy tickets for the adults?
NOOOO!!!!! You only need to buy tickets for the children, there is no charge for adults and baby siblings under 9months. However, I respectfully ask that you don't bring one child accompanied by all of their aunties and uncles, both sets of grandparents and Kevin from next door... The room we have in the Red Stables isn't overly massive and these shows are meant for the kids!
Do I need to print my ticket?
No please don't, I will have a list of names of everyone who bought tickets - all you need to do is introduce yourself when you arrive :-)
If this is a proper Christmas Special, Michael Bublé will make a guest appearance right?
I have been advised by Bublé's agent, that this is a very busy time of year for Bublé and that although Bublé would be delighted to sing with Rainbow Phil at Rainbow Phil's Christmas Special, Bublé already has prior commitments for the majority of the festive season. Maybe next year though?