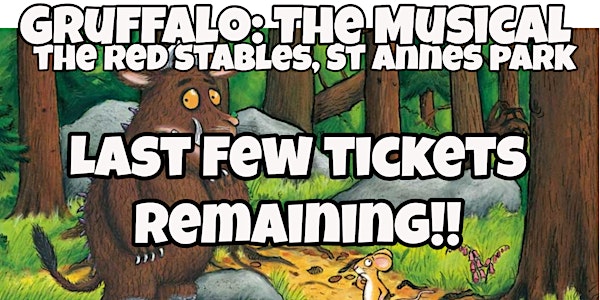 Rainbow Phil's Easter Special
When and where
Location
The Red Stables Dublin Ireland
Refund Policy
Refunds up to 7 days before event
Description
After the highly unexpected success of Rainbow Phil's Halloween Special, "Room on the Broom: The Musical" in October 2018, which garnered such favourable reviews as;

"That was actually quite good"
"Almost as good as I expected!"
"We managed to stay right until the very end - one thumb up!"

I am excited to present, Rainbow Phil's Easter Special "Gruffalo: The Musical" - which will take place over the two week Easter break in St Anne's Park - The Red Stables!


What can I expect from Rainbow Phil's Easter Special?

Things will kick off with a few of the usual songs to get everyone warmed up and ready for the main event, which will be a half sung half spoken performance of The Gruffalo story using various puppets and props, followed by a rendition of the Gruffalo Song. We'll round things off with bubbles, parachute and, of course, the Hokey Cokey!!
There may well be other surprises, as and when I think of them between now and Easter!!
---
Before booking Tickets, please read the following...
(particularly if you haven't seen a Rainbow Phil show previously)
Rainbow Phil activities are suitable for babies, toddlers and kids up to around the age of 6, there is no charge for adults to attend but please bear in mind that we have limited space and that the show is intended for the little ones! The cost is €10 (plus booking fee) per child regardless of age, however, baby siblings under the age of nine months do not need tickets.
Please also bear in mind that Rainbow Phil operates a one man show, so you need to be responsible for your kids at all times and to discourage disruptive behaviour. Rainbow Phil is happy to have a bit of banter with the kids during the show, but excessive shouting out should be discouraged.
The Three Rules of Rainbow Phil
I don't have a lot of rules for the kids, but the below MUST be abided by.
Don't stand behind me. I move around a lot, if a small child is standing behind me without me realising then bad things can happen.
No rummaging in my bags. It disrupts the show and spoils it for everyone else. This also extends to interfering with my electrical equipment and touching my guitar when it's in its case.
DO talk about Rainbow Phil - particularly on social media! #rainbowphil on instagram :-)

For the regular Saturday Superhouse goers, please read below..

Due to the limited places available and the additional costs involved for me putting on this show, there will be no discount for siblings or babies under 12months, however baby siblings under nine months don't need tickets. I will be giving out stamps as usual, but you won't be able to use a full card to claim your free week for this particular performance.
Thank you for your understanding on this occasion.
For more info on my usual Saturday mornings in St Anne's check out the link below
https://rainbowphil.com/saturday-superhouse/

If you would like to contact me directly for any reason my email is