Raising Student Voices Ethical Education Conference 2016
Fri, 25 Nov 2016, 3:00 p.m. – Sat, 26 Nov 2016, 5:00 p.m. GMT
Description
Educate Together is delighted to announce that it will hold its Ethical Education Conference at The Alexander Hotel, 25-26 November 2016. 
With the theme of 'Raising Student Voices', this conference will bring together teachers and educationalists to discuss whole school strategies and classroom activities that will encourage students to speak up and speak out and will encourage schools to facilitate and embed student-led learning.  
Following on from last year's success, we will have another TeachMeet, whereby teachers will be given the opportunity to share ideas, resources and good practice in a fun, informal atmosphere.
We will also host a 'StudentMeet' whereby children and young people in Educate Together schools will be given the opportunity to share initiatives and innovations that they have introduced into their schools.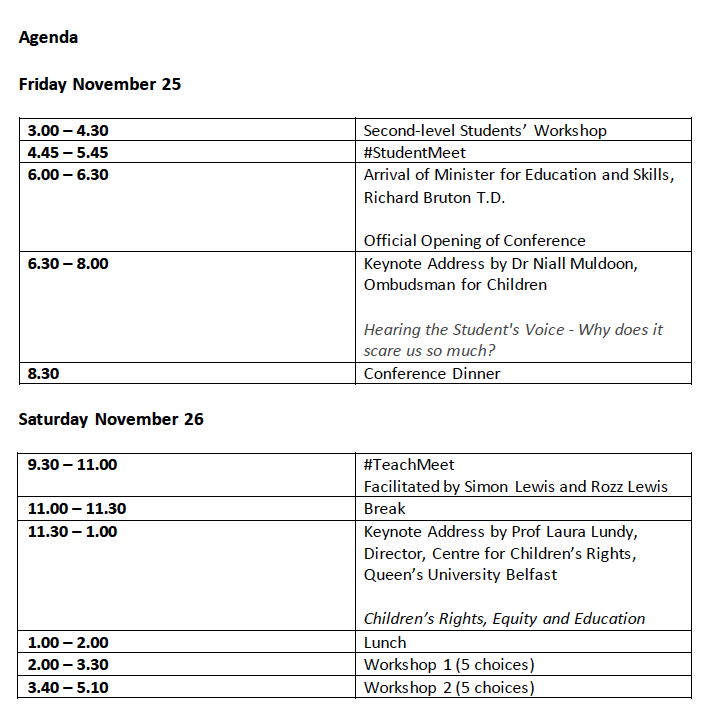 The workshops on offer this year are: 
Joanna Siewierska, ISSU
Empowering Children and Young People in Primary and Post-Primary Student Councils
Dr Laura Dooley, Educate Together
Enhancing Student-Centred Learning Using Children's Literature
Anne O'Donnell, Department of Children and Youth Affairs
Children are the Citizens of Today and not Just the Adults of Tomorrow
Dr Shane Bergin, University College Dublin
Student-led Learning – Lessons from Science for All
Stephen Graham, Literacy Consultant for New South Wales, Australia
Facilitating Student Voices: Linking Oral Language and Writing
Contact info@educatetogether.ie with any queries in relation to the event.