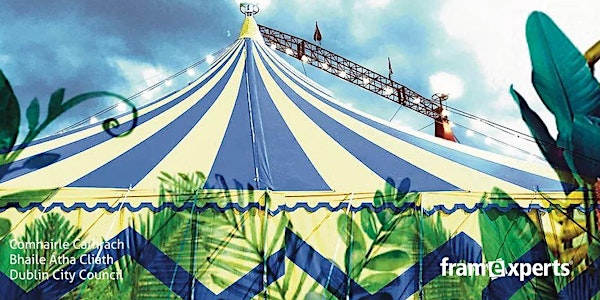 Ranelagh Arts Festival Day 2 Saturday - Free/Donation
Ranelagh Arts presents a full day of events for Saturday. Get your all day pass here. All donations appreciated
When and where
Location
Circle Tent in Mount Pleasant Square Park Mountpleasant Square Dublin Ireland
Refund Policy
Contact the organizer to request a refund.
About this event
Morning events are free to attend. Event entry to the afternoon events is by donation. For those who can't afford to make a donation, they can get in for free by talking to a member of front house. Kids go free with adult.
Purchasing a ticket will give you all day access to all of the below events.
Please note you can only purchase one ticket at a time per a person due to the donation format but we'd love you all to come so please book away!
Join us for:
10am: Family Yoga with Christine - bring mat (FREE)
12noon: Anna Banana's Magic show (u8's) (FREE)
1:15: Ringo: Music Bingo(FREE)
2:30pm: Best Case Scenario - Nora Steiner, Ian Veenman with special guests Matthew Healy, Craig McCormish & Grim Nordahl (FREE)
3.45pm: Na Cauci & Tim Doyle: Traditional Ensemble
5:00pm: Dublin Ukulele Collective
6:30pm: Belle Harmonics
A dynamic pop rock choir that performs an eclectic range of songs from artists like Sia, Beyonce, Elton John and Fleetwood Mac
8:30pm: Paddy Casey
Singer, songwriter and muti platinum selling Irish artist, played with REM, The Pretenders & Bob Dylan
10:00pm: DJ Mona Lxsa
Please note all children must be accompanied by a parent or guardian.
Family Yoga with Christine
Chris is based in Ranelagh and teaches all around Dublin. She cant wait to meet you on the mat at The Ranelagh Arts Festival on September 24th. Come along to move your body in a fun and playful manner. You don't need any yoga experience just come as you are and prepare for a carefully guided morning of movement.
Anna Bananas
Anne Owens has been working as a self- employed Children's entertainer known as Anna Bananas since 1996. She has entertained at a wide variety of events for Children such as Birthday, Communion ,Christening and Wedding parties, to events in Pre-schools, Schools, Summer camps, Libraries, Children's Hospitals, Festivals and Community and Corporate events delighting them with puppet, clown and magic shows.
This performance is suitable for under 8s.
Ringo: Music Bingo
1, 2, 3, 4! Get ready for Ringo: Music Bingo, the world's greatest music-intro-comedy-game-not-quiz. It's bingo with bands instead of numbers, with incredible clues and sometimes incredulous jokes. Fun for all the family, it's a hit at festivals, venues, bars and weddings. Ronan gives you the sheet and you tick them off as you go.
What do you call it when you bring a book into the toilet? Lou Reed
When the lead singer of The Police dies will we call him Stung?
What did John Lennon sing when he was very happy with this new haircut? Love Me Do
___________________________________________
A hit at music festivals, pubs, staff parties and even weddings, it's Ringo: Music Bingo.
Ronan plays the intros to well known songs, if that band is on your sheet you cross them off (it's a game, not a quiz, he gives you the answer via comedy clues) first to fill the sheet wins prizes!
Ringo: Music Bingo, it won't change your life but it will make your day
Best Case Scenario
A Collaborative effort between BIMM students Nora Steiner and Ian Veenman, Best Case Scenario is a modern fusion band that brings jazz, blues, and funk influences to a modern sound with recognizable hits and original songs. Special guests Matthew Healy, Craig McCormish and Grim Nordahl.
Na Cauci & Tim Doyle
'Na Cauci' are a traditional music group comprising of Tim Doyle (uilleann pipes, fiddle and concertina), Rachel Duffy (harp and concertina) Oisín Hennessy (fiddle and vocals) and Gerard Lord (guitar). All 4 players are multi-instrumentalists and come from backgrounds steeped in traditional music and culture. They have performed as a quartet at various music festivals around Ireland including the DLR Choice, 'local live' festival in Dun Laoghaire in 2021 and have supported Kíla at the 'Songs by the Sea' series of concerts in Glendalough, Wicklow. They have also been performing together under various different guises for many years and are regulars on the traditional music performance and teaching circuit. Their repertoire consists mainly of traditional dance tunes and songs arranged specifically for their combined forces. Tim and Rachel are renowned composers of traditional music and Gerard and Oisín are well-regarded songwriters. Their set will feature original tunes and songs from every member of the group.
Dublin Ukulele Collective
The Dublin Ukulele Collective (DUC) are a 30-piece ukulele ensemble.
They have been a popular feature on the Irish Festival circuit since, playing sold out shows in Whelan's, Christchurch and have performed at Electric Picnic every year since 2015
DUCs pride themselves on a diverse repertoire of songs that engage the audience and make it an inclusive experience for all.
Belle Harmonics
Here come the Belles.... !
Join the epic pop/rock choir Belle Harmonics as they take to the Ranelagh Arts Festival stage with an eclectic set of hits from the modern divas Lady Gaga, Beyonce and Adele – alongside legendary classics from Fleetwood Mac, Elton John and many more.
Well known to the music festivals and stages of Dublin, the Belles are delighted to be part of this event which promises to be a great singalong night of fun.
Paddy Casey
Paddy Casey has toured the globe with acts like The Pretenders, R.E.M, Ian Brown, Blondie and Tracy Chapman. He has played all over Ireland, including a sold out Dublin Castle, RDS and The Olympia Theatre, alongside U2, Pearl Jam, and Bob Dylan. The release of 'Addicted To Company, Part 1' led to a tour across America. Paddy released his fifth album 'Turn This Ship Around' alongside his new single 'Won't Take Much' that reflects the upbeat, electric, synth and guitar driven side to the album.
DJ Mona Lxsa
Featured in British Vogue and RTE, Malawian-Irish DJ Mona Lxsa is an open format DJ who captivates experience through music using her platform to promote Dublin culture wherever she goes. Her mix 'Mind F x C K' has over 150k streams on Soundcloud. She has worked with high profile brands Heineken, Sky Ireland, Grace O'Malley, Pretty Little Thing and more. Mona also played at the likes of Longitude, Electric Picnic, Body & Soul: Definitely one to watch.