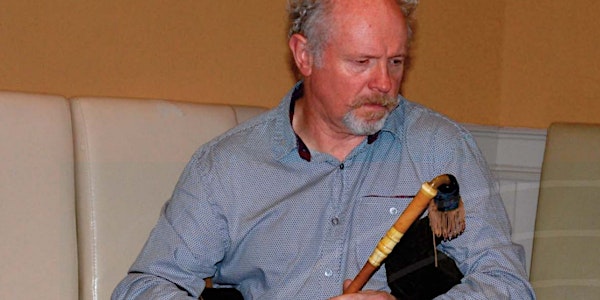 Rang ar an Phíb Uilinn/Uilinn Pipes le Jimmy O'Brien Moran
Beidh ranganna ar na Píb Uileann le Jimmy O'Brien Moran ag Scoil Cheoil an Earraigh ón 16ú-18ú Feabhra 2023
By Scoil Cheoil An Earraigh
When and where
Date and time
Thu, 16 Feb 2023 10:00 - Sat, 18 Feb 2023 13:00 GMT
Location
Baile an Fheirtéaraigh Ballyferriter Ballyferriter Village Ireland
Refund Policy
Contact the organiser to request a refund.
About this event
Beidh ranganna ar na Píb Uileann le Jimmy O'Brien Moran ag Scoil Cheoil an Earraigh ón 16ú-18ú Feabhra 2023
Thosaigh Jimmy O'Brien Moran ag casadh cheoil timpeall 1975. Spreagadh an suim seo trí cheoil Planxty agus píobaireacht Liam O'Flynn. Chuaigh sé go dtí ranganna phíbuilleann ag Scoil Samhradh Willie Clancy sa bhlian chéanna. 'S iad Willie Clancy, Liam O'Flynn, Séamus Ennis agus Seán McKiernan na píobairí is mó a chuaigh i bhfeidhmair.Thug Seán Reid dó an ghléas cheoil a sheinneann sé inniu, a rinne Colgan as an Muileann gCearr c. 1820. Ba é an chéad taifeadadh a rinne sé ná albam de phíobairí óga, "The Pipers' Rock", a léirigh seachtar píobairí a bhí óg ag an am. Sheinn sé freisin le James Kelly ar a albam "The Ring Sessions". I 1996 d'eisigh sé taifead aonair dar teideal "Seán Reid's Favourite" agus eisíodh a dhara dlúthdhiosca, "Take me Tender", in 2013. Scrúdaíonn sé rogha de stór tras-scríofa an phíobaire dall as Gaillimh, Paddy Conneely (d'éag 1851). Bhí Conneely agus a bhailitheoirí (George Petrie san áireamh) ina n-ábhar do thráchtas dochtúireachta Jimmy in Ollscoil Luimnigh, a cuireadh isteach in 2006. Bronnadh scoláireacht Fulbright ar Jimmy chuig Boston College agus chaith sé cúig mhí ann in 2008. Is léachtóir é Jimmy in Ollscoil Theicniúil an Oirdheiscirt, Institiúid Teicneolaíochta Phort Láirge tráth.
Mar Eolas
Caithfidh daltaí a gcuid uirlisí fhéin a bheith acu.
Tá fáilte roimis dhaoine fásta & leanaí os cionn 9 mbliana.
Beidh béim ar mhúineadh trí Ghaelainn sna ranganna.
Cuirfear béim ar amhráin, ar stíl is ar phoirt Chorca Dhuibhne
Iarraimid nach bhfreastalódh éinne le siomptóim Covid19 ar an rang.
N.B. Níl aon ranganna uirlise ann do ghlan tosnaitheoirí
Please Note
Pupils must have their own instruments.
Classes are for adults and children age 9+.
Most classes will be taught 'as Gaeilge' (through Irish) while all efforts will be made to make sure that no one feels excluded.
The emphasis will be on West Kerry tunes and style
Please do not attend class if you have symptoms of Covid19
NB There are no classes for absolute beginners.
Beidh na ranganna ar siúl óna 10rn go 1in gach lá le sos san áireamh.
Classes will be held from 10am to 1pm daily with a break included.
About the organiser
Féile ceoil thraidisiúnta i mBaile an Fheirtéaraigh, i gCorca Dhuibhne, Co. Chiarraí, Éire i mí Feabhra gach blian ina mbíonn ceardlanna ceoil agus amhránaiochta, ceolchoirmeacha, léacht, seisiúin, siúlóid, ciorcal comhrá, agus go leor eile.