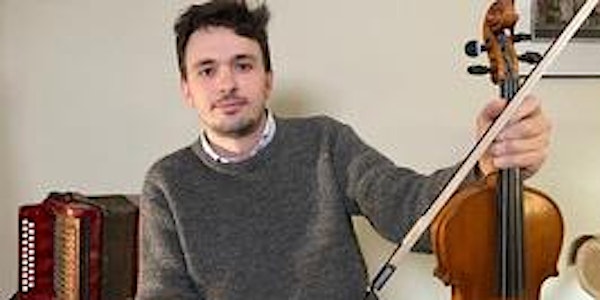 Rang Fidil/Fiddle Class le Andrea Palandri (Intermediate)
Ranganna Fidil le Andrea Palandri ag Scoil Cheoil an Earraigh 16ú-18ú Feabhra 2023
By Scoil Cheoil An Earraigh
Date and time
Thu, 16 Feb 2023 10:00 - Sat, 18 Feb 2023 13:00 GMT
Location
Ballyferriter Village Baile an Fheirtéaraigh Ballyferriter Village Ireland
Refund Policy
Contact the organiser to request a refund.
About this event
Ranganna Fidil le Andrea Palandri ag Scoil Cheoil an Earraigh 16ú-18ú Feabhra 2023
Is i Londain a chaith Andrea Palandri tosach a shaoil sarar aistrigh sé lena mhuintir go dtí an Véinéis san Iodáil nuair a bhí sé naoi mbliana d'aois, áit a d'fhan sé go dtí gur chríochnaigh sé an scoil. Thosnaigh sé ag teacht go hÉirinn nuair a bhí sé sna déagaibh agus ba gheairid ina dhiaidh sin gur chuir sé suim ar leith i veidhleadoireacht Paddy Cronin agus Denis Murphy agus sna teicnící a bhíodh á múineadh ag Pádraig O'Keefe ina chuid lámhscríbhinní teagaisc. Tá ceol seinnte ar stáitse ag Andrea ag a lán ócáidí in Éirinn agus thar lear ó d'aistrigh sé chun na tíre seo sa mbliain 2014 agus tá ranganna veidhlín múinte aige ag féilte ceoil traidisiúnta ar nós Feakle i gCo. an Chláir agus Tionól Nioclás Tóibín i gCo. Port Láirge. Bhí sé ina aoi speisialta ar Slí na mBeaglaoich ar TG4 le déanaí agus tá sé le clos chomh maith ar an albam le Aidan Connolly 'Be Off' a d'eisigh Raelach Records.
Mar Eolas
Caithfidh daltaí a gcuid uirlisí fhéin a bheith acu.
Tá fáilte roimis dhaoine fásta & leanaí os cionn 9 mbliana.
Beidh béim ar mhúineadh trí Ghaelainn sna ranganna.
Cuirfear béim ar amhráin, ar stíl is ar phoirt Chorca Dhuibhne.
Iarraimid nach bhfreastalódh éinne le siomptóim Covid19 ar an rang.
N.B. Níl aon ranganna uirlise ann do ghlan tosnaitheoirí
Beidh na ranganna ar siúl óna 10rn go 1in gach lá le sos san áireamh.
Scoil Cheoil an Earraigh will hold fidil classes with Andrea Palandri from the 16th-18th February 2023.
Andrea Palandri was raised in London until the age of nine and in Venice until the age of nineteen. He began visiting Ireland in his teens and developed a particular interest in the fiddle playing of Paddy Cronin, Denis Murphy and in the bowing techniques taught in the manuscripts of Pádraig O'Keeffe. Andrea has performed at numerous events both in Ireland and abroad since moving to Ireland in 2014. He has taught fiddle masterclasses at traditional music festivals such as the Feakle Festival in Co. Clare and at Tionól Nioclás Tóibín in Co. Waterford. He has also featured on TG4's Slí na mBeaglaoich and as a guest musician on Aidan Connolly's critically-acclaimed album 'Be Off', released on Raelach Records.
Please Note
Pupils must have their own instruments.
Classes are for adults and children age 9+.
Most classes will be taught 'as Gaeilge' (through Irish) while all efforts will be made to make sure that no one feels excluded.
The emphasis will be on West Kerry tunes and style
Please do not attend class if you have symptoms of Covid19
NB There are no classes for absolute beginners.
Classes will be held from 10am to 1pm daily with a break included.
About the organiser
Féile ceoil thraidisiúnta i mBaile an Fheirtéaraigh, i gCorca Dhuibhne, Co. Chiarraí, Éire i mí Feabhra gach blian ina mbíonn ceardlanna ceoil agus amhránaiochta, ceolchoirmeacha, léacht, seisiúin, siúlóid, ciorcal comhrá, agus go leor eile.