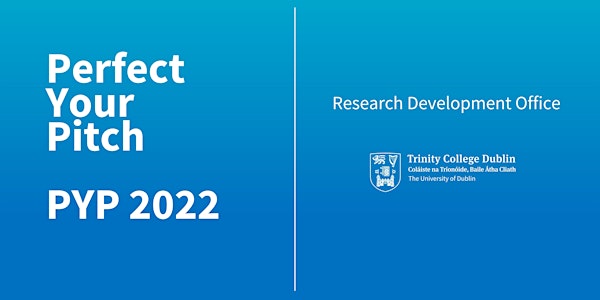 RDO Training - Perfect Your Pitch - PYP SEPTEMBER
***TCD Staff Only***
About this event
The Research Development Office is organising a Perfect Your Pitch (PYP) clinic for candidates who intend to apply for large PI-led grants e.g. Wellcome Career Development Award, IRC Laureate, HRB Emerging Investigator, SFI Frontiers of the Future etc. over the next 6-12 months.
The aim of Perfect Your Pitch is to give grant applicants the opportunity to practice selling their idea for a future grant to a group of senior researchers.
To benefit from PYP you don't need to have written your proposal yet (in fact it is better if you haven't), but you do need to have a very clear idea of what you think your grant is about.
The Research Office advise that applicants undertake the PYP process at least six months in advance of your chosen funding scheme deadline.
The proposed format for PYP is a 3-hour session in which six applicants get 15 minutes each to present their grant idea followed by 15 minutes of feedback and questions. A Panel (Chair and 2-3 academics) will be invited to ask questions and provide constructive input.
Three PYP panels will be organised:
- Social Sciences & Humanities
- Physical Sciences, Engineering & ICT
- Life & Health Sciences
Date: Tuesday 13th September 2022 (14:00-17:00)
- Registration closes 30 August -
In advance of pitching to the selected evaluation panel (and audience), you are requested to complete an Expression of Interest (EoI). This will enable us to assemble an appropriate panel. Once you have submitted your EOI you will be contacted and asked to prepare your six slide presentation.
Please indicate at least 2 weeks before the event date if you have any access requirements, such as ISL/English interpreting, so that we can facilitate you in attending this event.