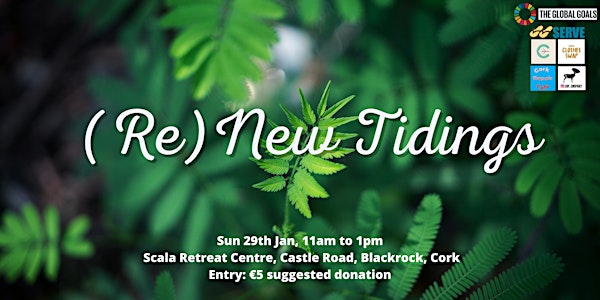 (Re) New Tidings: Activities to encourage sustainable living
This family-friendly event will offer practical activities to encourage sustainable living in the new year.
When and where
Location
Scala Retreat and Conference Centre Castle Road Cork Ireland
About this event
(Re)New Tidings is created by SERVE, Cork Zero Waste, Cork Clothes Swap and Repair, Cork Repair Cafe and collage artist Silvio Severino. There will be different activities for all age groups to encourage sustainable living.
Register now. Entry: €5 suggested donation at the door. Donation helps to cover costs.
Activities on the day are as follows:
On the occasion of Lunar New Year, we will learn to say 'Happy New Year' in different South-East Asian languages.
Cork Zero Waste will host an interactive game 'To bin or Not to Bin to test you knowledge about reuse and recycling.
Cork Zero Waste invite you to swap plants and seeds too.
Clothes swap - You're invited to bring 5 items of clothing (washed and fully dried only) to the swap shop hosted by Cork Clothes Swap.
Sewing repairs - Cork Repair Cafe & Cork Clothes Swap encourage you to bring items that need sewing magic to fix fashion. Please note the crew will demonstrate how to sew something and where applicable only discuss how a clothing item could be mended.
Bike and other repairs with Cork Repair Cafe -This is your opportunity to brainstorm with like-minded people on how your bike, electrical item etc can be repaired.
Artist Silvio Severino will host a collage making workshop
SERVE encourages cooking from scratch by sharing easy to follow recipe on the day.
Explore the Global Goals trail on-site.
We look forward to all the sustainable lifestyle chats on the day! Bring your friends and family!
Additional information:
Drop-ins are more than welcome. So if you don't get to register in time, that's fine - just come along with family and friends.
The closest public car park is located beside the Blackrock Castle Observatory. There's no parking on site in Scala.
Scala is wheelchair accessible. The Global Goals Trail is partially accessible by wheelchair.
You can park your cycles on site.