Re-Schooling The Institute: Queer, Feminist and Decolonial Methodologies
About this event
This panel will host a queer, feminist, and decolonial exploration of research methods and methodologies as part of the University College Dublin College of Social Sciences and Law Summer School.
This panel will bring academics, artists, activists, researchers and students together to discuss contemporary and emergent themes in relation to queer, feminist, and decolonial methods and methodologies across schools and disciplines related to the social sciences and law and beyond the academy.
The panel will be 1.5 hours and will give individuals an opportunity to dialogue with each other and the members of the panel.
The panel will take place online and will give each speaker 15-20 minutes to discuss their practice, methods, and methodologies from their experience, and then we will open the floor for Q&A and discussion.
There is no obligation to participate of course, you can come and be present and simply listen to the discussion.
This event will take place over zoom, closed captions will be a part of this event. If you have any accessibility needs and/or desires please contact us at qeire.contact@gmail.com and we will do our best to meet them.
We look forward to seeing you!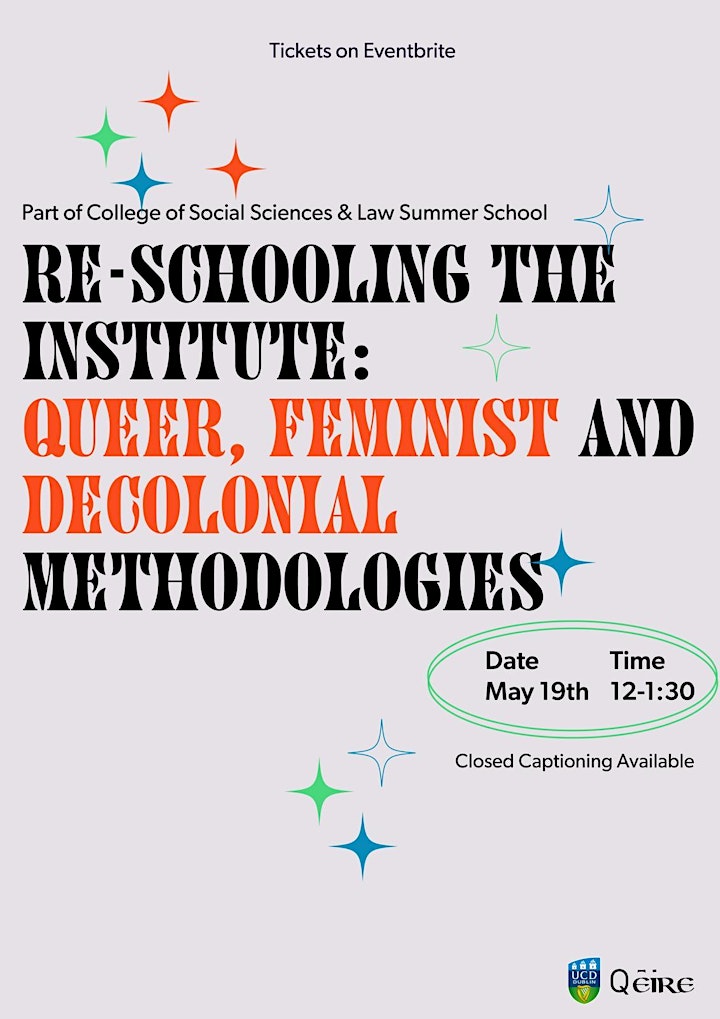 Organiser of Re-Schooling The Institute: Queer, Feminist and Decolonial Methodologies