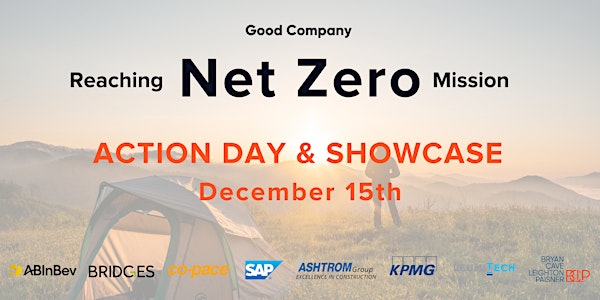 Reaching Net-Zero Mission - Action Day & Showcase!
The Movement by Good Company and its partners is showcasing the best startups solving the world's biggest problem - Reaching Net-Zero.
About this event
Good Company is on a Mission - We invest in the new economy leaders, that focus on solving the world's biggest problems.
The global transition to reach net-zero by 2050 is calling for nothing less than a transformation of how we produce, consume, and move about.
Good Company has joint forces with AB Inbev, Ashtrom Renewable Energy, Continental, Bridges Israel, SAP, KPMG Israel, LeumiTech, and Bryan Cave Leighton Paisner LLP. Together we set on a mission to find the best startups that have a strong and innovative presence with a high potential to make a true impact in reaching their net zero goals.
The presenting startups will be announced close to the event.
- - -
Agenda:
11:00 - 11:30 Gathering & Coffee
11:30 - 12:30 Showcase (In-person & ZOOM)
12:30 - 13:30 Lunch & Mingling
2nd part of the Agenda for Startups & Expert Panelists:
13:30 - 15:10 Round Tables - part 1 (Startups & Experts)
15:10 - 15:40 Coffee Break
15:40 - 16:40 Round Tables - part 2 (Startups & Experts)
16:40 - 17:30 Thank you & Wrap-up
* please note that the agenda times might vary
** In-person participation is on an invite-only basis
- - -
Visit the mission website for more info and application: goodcompanyhq.com/net-zero
The Startups Showcase will take place in-person and will be on broadcast via ZOOM - sign up for the online event!
Please notice that in-person attendance is on an invite-only basis and presenting startups. If you would like to attend in-person please contact us - hillary@goodcompanyhq.com
Exact details of the venue will be sent towards the event.