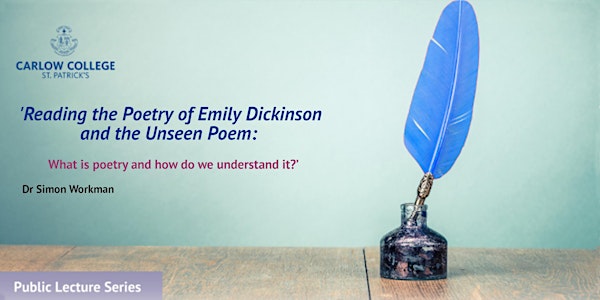 Reading the Poetry of Emily Dickinson and the Unseen Poem
Carlow College lecturer in English, Dr Simon Workman, explores the poetry of Emily Dickinson and planning for the Unseen Poem
When and where
Location
Carlow College, St Patricks, College Street R93 A003 Carlow Ireland
About this event
Carlow College, St. Patrick's invites you to the second public lecture for 2021/22 where Dr Simon Workman explores 'Reading the Poetry of Emily Dickinson and the Unseen Poem: What is poetry and how do we understand it?'
This lecture is of particular interest to Leaving Cert students as it will assist studying the Prescribed Material for Leaving Cert English Examinations in 2022, the poetry of Emily Dickinson and preparing for the unseen poem on the English examination.
This event will be available for attending both in-person or livestreamed - please select the correct ticket up when booking your place.
Please Note: All attendees in-person must present a valid COVID certificate.
Ticketing Options
Two ticket options will be available:
In - person: physical attendance will be capped at 50 people. All attendees in-person must present a valid COVID certificate.
Online: a link for livestreaming the event will be emailed the morning of the event. Please note, when selecting this ticket option, please select the number of tickets for the number of people who will be watching the event (i.e. schools livestreaming in the classroom, please select tickets for the number of teachers/students who will be watching). There is no limit on the number of people livestreaming the event.
About the Presenter
Dr Simon Workman is the Programme Director for B.A.(Hons) in English & History at Carlow College, St. Patrick's. He lectures across several different modules of English Literature including: Introduction to Modern Irish Poetry and VIctorian Poetry. Dr Workman's research to date has been primarily concerned with modern Irish culture, particularly as it related to the genres of poetry, radio drama and the short story. His work has been publish in the Irish Literary Supplement, Poetry Ireland, Irish University Review, Irish Studies Review and The Review of English Studies.
Notice to attendees
This event will be livestreamed, therefore those attending in person are notified that this event will be broadcast and recorded.