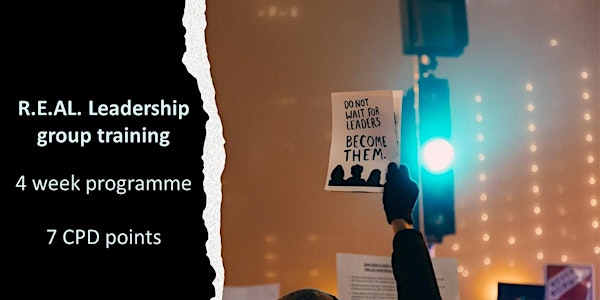 REAL Leadership - 4 week online leadership development (7 CPD points)
Leadership Development Programme (7 CDP points) - developing Resilient, Empathetic, Anchored Leaders (R.E.A.L.) at all levels.
Refund Policy
Contact the organizer to request a refund.
About this event
Several studies have identified the need for leadership development at all levels in business and organisations.
However, people are busy. It's difficult to commit to full day or even half day training programmes and workshops, especially if they are off-site.
This programme is your solution.
It's delivered online, in short modules with minimal 'homework'. The learning and insights occur during the training. There are practical, fun demonstrations as well as real life case studies to discuss in a peer-to-peer learning environment.
You won't find this unique mix of content elsewhere. This is a programme that seeks to develop the skills and competencies to be R.E.A.L. Leaders in a short space of time.
What is a R.E.A.L. Leader?
R.E.A.L. Leaders are Resilient, Empathetic, Anchored Leaders.
They replenish their own Resilience every day, so that it serves them well when there's a crisis and so that they can create and hold a space of safety for others who are afraid.
They are Empathetic and just. Their teams know that they will be treated fairly even when they have made a mistake. (Notice that's 'when' not 'if' they make a mistake. We all make mistakes. It's a feature of being human). REAL leaders are trusted because they are trustworthy.
They have daily habits and behaviours that are Anchored in their values and that bring those values to life.
Real Leaders know that their own Leadership development is a lifelong journey that like any journey includes highs and lows, twists, turns and unexpected hazards, but always progress.
They lead by example and they inspire others by role modelling how it's done.
Real leaders are those who want to do better in their leadership of others.
R.E.A.L. Leadership is a 4 module programme that's based on latest findings from the world of neuroscience and human physiology, along with models and theories from world-renowned thought leaders in Just Culture and Leadership. This programme is accredited for 7 CPD points by the CPD Standards Office (Registered Provider No: 50206)
This programme will benefit business owners, managers, employees and professionals. Many know their sector inside out, but haven't had an opportunity to do any leadership development. Those who work in safety-critical sectors will particularly benefit from the content and real-life case studies that we will discuss.
This programme will give you tools to ensure that you are responding fairly to the behaviours of those you manage, the habits to support your personal and career growth and the confidence to move up the track to new levels of leadership. All delivered in short online modules so as not to take up too much of your working day.
Are you ready to stretch up into your leadership? Let me show you how you can be the R.E.A.L. leader we need in the world; not 'some day', but today.
Format:
4 x 1. 5/2 hour live online webinars (1 per week over 4 weeks).
Resources, reading and case studies to consider between modules (approx. 1 hour)
Attendees will receive a personal e-mail from Lisa with pre-joining preparation and the Zoom links to log into on the day.
Knowledge transfer through recognised training processes (verbal instruction and explanation, visuals, practical exercises and demonstrations, polls, feedback, Q&A, peer to peer learning) with coaching approaches where possible during the webinars.
By the end of this online course, delegates will:
Be able to assess their own level of resilience, identify gaps and know the importance of maintaining their own well-being.
Understand and have some practical examples of micro-resilience (tiny changes in habits and behaviours that take seconds to implement but have measurable impact on energy).
Know, and have practised,simple techniques for harnessing their own physiology to manage stress in advance and on the spot.
Understand the Just Culture model of fairness, learning and accountability in the workplace and in society.
Know the neuroscience of trust and distrust and understand how to build trust with others.
Know what their non-negotiable values are.
Know how to create and embed habits that support high performance at work.
Know the most common models of Leadership used worldwide.
Understand the importance of, and how to, lead themselves first before they can lead others.
Know how to lead in a crisis.
7 CPD points
Certificates will be e-mailed to upon completion and attendance at all modules.
Next steps after completing this programme:
Those who complete this four week programme will have the option to access the next steps of leadership development via the R.E.A.L. Leader Masterminds 1:1 coaching programme. This will ensure you embed the learning from the programme, address challenges in real time with the support of your coach, explore how you can put what you have learned into practice in your life and workplace, practise new techniques with accountability to help you push through your comfort zone and to strengthen your personal development. Contact Lisa for information on those 6 or 12 month programmes.
What participants have said:
"I completed the 4 week R.E.A.L Leadership course in September 2020. The course was engaging, relevant and practical. It asked questions of your mindset and values. As a potential employer in the near future, it made me consider the type of leader I want to be. It emphasised what I need to work on and improve. There was a small bit of homework which helped engage you for the following week. Lisa Nolan delivered the course. Lisa was always friendly and encouraging. Her knowledge on the subject is second to none. I took a lot from this course and I would highly recommend it to all my family, friends, colleagues, and clients. Thanks again for a great course Lisa."
Emmet Colleran, Chartered Accountant and Chartered Tax Advisor.
"I would have no hesitation in recommending Lisa of Aslan Coaching for any Leadership training. Being self employed sometimes can be challenging, you are almost forced to know and to have all the answers. By doing Lisa's programme she informed and educated us to be the best Leaders we can be in many different aspects and environments. Lisa is a wealth of knowledge in her field and this course is fantastic and after each meeting I was looking forward to the next one! If you haven't hired your coach yet, Lisa will guide you. A resounding 5 stars from me."
Thomas, course participant.
"I have recently attended one of Lisa's courses and I can say without doubt that it was one of the most engaging and informative courses that I have ever attended."
Course participant.
"We have used Aslan several times for leadership training. Very professional experience. Highly recommended. Several of our team at Albert Berry Motors have used Lisa @Aslan Coaching also and would recommend her services highly. We can also gain CPD points for our staff from Aslan's first class training. Will definitely use their training again."
David Berry, MD Albert Berry Motors
"Our team had a resilience session with Lisa. Wow is all I can say, exceptional facilitator with a wealth of knowledge and practical experience. We picked up some great micro tips on managing stressful situations. I would highly recommend Lisa."
Fergal Corrigan, Manager Peace Link, Clones
"I did this course a few weeks ago, wow what an eye opener, it really takes someone like Lisa to make you have a real good look at your own business and indeed your own life, and how we conduct ourselves around team / employees and people we meet along the way. So I would encourage anyone to do this course, Thank you Lisa"
Gerry McNeill, Kangen Water
"Today was so interesting and I will definitely be more aware of how I work with my team in the future. You are a great facilitator and very easy to listen to."
Course Participant
Designed and delivered by Lisa Nolan, Aslan Coaching
Lisa is a professional coach and trainer who works with professionals, executives and business owners to build their leadership skills, confidence and resilience.
Having first qualified as a general nurse and subsequently as a midwife, Lisa has worked in a diverse range of clinical settings including Beaumont Hospital Dublin, street clinics in Calcutta, King Edward VII Hospital and the Royal Marsden Clinic in London, and GP practices in Dublin. A move to the administrative side of healthcare included roles in the Blackrock Clinic, Lowell House, and the Irish Practice Nurses Association where she managed a successful application for charitable tax exemption, drafted governance policies for Board to approve, mentored rotating Board Members in their new roles and responsibilities, and coordinated clinical awards and bursaries. She built a successful Virtual Assistance business before going on to qualify as a Business, Executive and Personal Coach, and later completing Train the Trainer.
Lisa's coaching practice is underpinned by her nursing background and knowledge of how physical and mental health is woven into every aspect of our personal and working lives. She helps her clients recognise and manage stress, ground themselves and their leadership practices in their core values, and design and implement meaningful changes that are embedded so that they will last long after the coaching process has ended. She works with her clients to develop their personal resilience using their own physiology, research-based coaching techniques and evidence from studies in neuroscience. She introduces clients to the best models for personal improvement such as Micro-Resilience (proven, research-based tools and rejuvenating behaviours that take seconds to implement and lead to immediate results), the Five Levels of Leadership, Conversational Intelligence, and others. Her approach throughout her past nursing career and in her coaching practice now is one of 'unconditional positive regard' for her clients (ref: Carl Rogers).
She is on several coaching panels in private, semi-state, cross-border and international bodies. She gives talks and workshops on resilience and leadership to community and patient groups, business teams, at seminars and networking meetings. She co-facilitates peer group coaching supervision sessions with coach colleagues, rotates through committee roles in the BNI Rossmore Chapter and serves as Director Consultant on the Care Team in the BNI Dublin North East and West regions. She is a Certified Just Culture Champion and an advocate of Psychological Safety in the workplace. She is currently Ireland's only Accredited Coach of Excellence with the Professional Development Consortium and licenced to issue CPD points for 1:1 coaching. She has contributed to nursing and medical journals, websites and blogs, writing about interventions that enhance health literacy. Her core values are dignity throughout life, non-judgement and compassion.
Her TED talk on psychological safety was the 2nd most watched in the world in September 2021 and was elevated to the TED.com website in March 2022.
Qualifications:
Principles and Practice of Restorative Just Culture, (Northumbria University)
Accredited Coach of Excellence (Professional Development Consortium)
Certified Just Culture Champion (The Just Culture Company)
Diploma in Business, Executive and Personal Coaching (Coach Institute of Ireland).
Professional Training Delivery and Evaluation QQI Level 6 (Train the Trainer)
RGN (NMBI Ireland),
RM (NMC UK), Dip. H.E. in Midwifery (Kingston University, UK),
Diplomas in Executive PA and Legal (Pitman Training)
Professional Memberships: MAC, NMBI