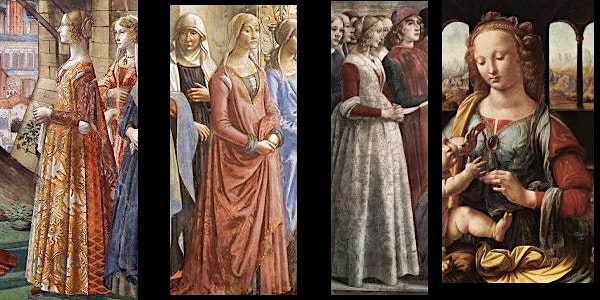 Real Women and Imagined Femininity
Images of Womanhood in Italy from the Middle Ages to the present
About this event
'Naked Ambitions'. This was the title of an article published in the Financial Times in July 2007, in which it was asked: 'Do Italians, particularly Italian women, really think it acceptable to sell primetime quiz shows on terrestrial television by trying to stir the male genitalia instead of viewers' brains? Or are they instead happy with life as it is – beautiful, flirtatious and with a supply of great shoes?'. Similar views surrounding women have been delivered through different media, linking the image of women to their body and appearance.
Regarded as having infirmitas, imbecillitas and levitas as key characteristics, women, their behaviours and their desires, have been a matter of concern since ancient times in Italy. In a world largely revolving around appearances, the image of women has been and still is of great importance. Since the Middle Ages, a series of laws regulating women's apparel were approved, and some towns also established a figure with the task of controlling their compliance with the law (e.g. the Ufficiale sopra gli ornamenti delle donne in Florence). Throughout the centuries, alongside laws, many treatises were written. These writings aimed at standardising women's image and ruled on their make-up, their apparel, their behaviour and strongly intruded in their intimate lives.
From the 18th century, the role of women started to change, with images of womanhood also evolving. In the Risorgimento, alongside women complying with the predominant image of womanhood linked to the private sphere, there were women who joined the patriotic fight, with some even dressing as men to become soldiers. In the first half of the 20 th century, the model of femininity radically changed, with the ideal woman embracing the androgynous look of the American flapper first and then the curvy Fascist woman who embodied motherhood. After the Second World War, while women began to obtain equal rights, their image started to undergo a process of hyper-sexualisation.
Nowadays, the use, abuse and objectification of the female body and its image in the media continuously leverages on the ambiguous and equivocal idea that womanhood means being 'beautiful, flirtatious and with a supply of great shoes', whereas online movements are encouraging body positivity and challenging standards of beauty as well as the importance of appearance in a woman's life.
We seek to explore how these images and models of beauty changed over time in Italy, to focus on their narrative around femininity, and explore the links between reality and stereotypes, between real women and imagined womanhood.
Call for Papers
We welcome contributions that investigate and address the portrayal of women between reality and imagination. From Medieval illuminations to modern comics, we aim to frame the discourse around femininity and the female body through the use of images on women, by women and for women.
Topics may include but are not limited to:
Visual arts: paintings, sculptures, films
Print media: magazines, books, fanzines, comics, pamphlets
Manuscripts
Literary and other forms of representations
Please send an abstract in English or Italian of 250 words and a short bio of maximum 150 words to Sara Delmedico (sara.delmedico@ucd.ie) and Manuela Di Franco (manuela.difranco@utoronto.ca) by January 31st, 2022.
Real Women and Imagined Femininity.
Images of Womanhood in Italy from the Middle Ages to the Present
Programme
3 May 2022
9:00-9:15 Toronto; 14:00-14:15 Dublin (15:00-15:15 Roma)
Introductory Greetings. Luca Somigli (University of Toronto) & Síofra Pierse (University College Dublin)
Session 1
9:15-10:45 Toronto; 14:15-15:45 Dublin (15:15-16:45 Roma)
'Una stanza tutta per sé': scrittura al femminile
Chair: Sara Delmedico (University College Dublin)
Paolo Pucci (University of Vermont), A colloquio con la tradizione. 'Gli Ammaestramenti e ricordi' (1628) di Isabella Sori
Elena Caselli (Simon Fraser University & Brock University), Essere e dover essere. Costruzione dell'identità femminile tra desiderio di rottura e necessità di adattamento, storia di Fanny Zampini Salazar (1851-1931)
Patrizia Guida (Libera Università Mediterranea), 'Una giovane tigre pronta all'assalto'. Amalia Guglielminetti tra persona e personaggio
Simone Pettine (Università di Chieti), 'La rana, Il paese delle serve, Campi elisi': la morte della donna nei racconti di Anna Banti
Session 2
11:00-12:30 Toronto; 16:00-17:30 Dublin (17:00-18:30 Roma)
Donne nella stampa e donne stampate
Chair: Manuela Di Franco (University of Toronto)
Virginia Niri (Università di Genova), 'Puoi stare perfettamente tranquilla'. Dubbi, timori e autorappresentazioni del corpo femminile nelle rubriche di Posta del cuore' (Italia, anni Sessanta e Settanta)
Eline Batsleer (University of Ghent), La Grande Guerra e la creazione di un nuovo ideale di femminilità sulle pagine della stampa periodica italiana (1914-1918)
Olga Campofreda (University College London), Cattive ragazze: effetti dell'estetica postfemminista sulla letteratura italiana
Stephanie Lanfranchi-Guilloux (ENS Lyon), Il corpo di una donna di lettere: rappresentazioni e autorappresentazioni di Ada Negri tra letteratura, socialismo e fascismo
Session 3
11:00-12:30 Toronto; 16:00-17:30 Dublin (17:00-18:30 Roma)
Donne, combattenti e patriote
Chair: Matteo Leta (University of Toronto)
Héloïse Faucherre-Buresi (Università di Lyon 3), La donna che vogliono tutti? Figure della patria in musica
Silvia Cavicchioli (Università di Torino), The Body of Female Patriots in the Italian Risorgimento, among Symbolic Representations, Male Disguises, Political Restraint
Laura Fournier-Finocchiaro (Università di Grenoble Alpes), Le combattenti invisibili del Risorgimento
Elena Musiani (Università di Bologna), Da Crocerossina a Garçonne? L'immagine della donna italiana nel passaggio di secolo
Session 4
12:45-14:15 Toronto; 17:45-19:15 Dublin (18:45-20:15 Roma)
Donne in movimento
Chair: Luca Peretti (University of Warwick)
Francesco Casales (Università di Pavia), Donne e femmine. Orizzonti di femminilità nel discorso coloniale fascista
Federica Colomo (Università Roma Tre), Fasciste coloniali. Le politiche del regime per la donna italiana d'oltremare.
Monica Miscali (Norwegian University of Science and Technology), Oppressione o emancipazione? L'immigrazione femminile italiana in Norvegia dall'Ottocento ai giorni nostri
4 May 2022
Session 5
9:00-10:30 Toronto; 14:00-15:30 Dublin (15:00-16:30 Roma)
Donne e Madonne
Chair: Sara Delmedico (University College Dublin)
Johnny L. Bertolio (University of Toronto), Donne e madonne: i personaggi femminili del Decameron dalla dedica alle novelle
Valentina Rovere (University of Helsinki), In figura di donna: iconografia del femminile dal De mulieribus claris di Boccaccio ai manoscritti miniati del Quattrocento
Aistė Kiltinavičiūtė (University of Cambridge), Beyond Beatrice: Womanhood as a Social Collective in Dante's Vita nova
Keynote
10:45-12:15 Toronto; 15:45-17:15 Dublin (16:45-18:15 Roma)
Silvia Ross (University College Cork), Female Friendship, Performances of Sexuality, and Closet Space in Silvia Avallone's Acciaio and Un'amicizia
Session 6
12:30-14:00 Toronto; 17:30-19:00 Dublin (18:30-20:00 Roma)
Legge immaginata, legge reale
Chair: Manuela Di Franco (University of Toronto)
Sara Delmedico (University College Dublin), 'Rassicur[iamo] la più dolce metà dell'uman genere da malconcepiti timori'. Donne, dote ed asse ereditario nello Stato Pontificio dell'Ottocento
Jessica Reich (Università di Trento), Femminilità immaginata ed agency femminile nelle carte del Tribunale ecclesiastico matrimoniale di Trento (1857-1868)
Lucia Aiello (University of York), Sanctioned by Law: Post-Patriarchal Narratives of Gender-Based Violence
Session 7
12:30-14:00 Toronto; 17:30-19:00 Dublin (18:30-20:00 Roma)
Vite recluse
Chair: Isabel Harvey (Université du Québec à Montréal)
Maria Carolina Campone (independent scholar) e Saverio Carillo (Università della Campania), 'Carche di dolore e bisognose d'aita'. Corpo femminile e immagini mondane nella riforma post-tridentina dei complessi conventuali napoletani
Evelina Del Mercato (Università di Bologna), Monasteri femminili in Sicilia, spazi attraversati da vite di donne
Chantal Pivetta (University of Lund), L'immaginario femminile di stampo patriarcale decostruito dalla trattatistica di Arcangela Tarabotti, autrice veneziana e monaca forzata.
5 May 2022
Session 8
9:00-10:30 Toronto; 14:00-15:30 Dublin (15:00-16:30 Roma)
Tra palcoscenico e realtà
Chair: Ursula Fanning (University College Dublin)
Matteo Leta (University of Toronto), La 'zingara' e la lumaca: rappresentare l'altra sul palco del Rinascimento
Nicla Riverso (University of Washington), Early Modern Actresses: Playing the Role of Literate Ladies and Noble Women
Enza De Francisci (University of Glasgow), Mimì Aguglia and Marinella Bragaglia: Branding a Sicilian Image on Stage
Victoria Rimbert (Sorbonne Nouvelle), 'Io vego queste vedove andare in modo, che tutti mi pare che gridino lussuria i loro portamenti'. Vestirsi da vedova: ideale cristiano, esigenze sociali e immagini (XIV-XVI secolo)
Session 9
10:45-12:15 Toronto; 15:45-17:15 Dublin (16:45-18:15 Roma)
Narrare il femminile
Chair: Marco Ceravolo (University College Cork)
Stefania Mazzone (Università di Catania), Cyberfemminismo e fanzine: tra carne e metallo, le ginoidi contro il genere
Anna Di Giusto (Independent scholar), The Construction of Feminist Identity through the Body of Paper Women
Maria Chiara Di Stanislao (Independent scholar), La rappresentazione della casalinga da Carosello a Instagram
Jessy Simonini (Università di Udine-Università di Trieste), Teresa Noce, 'deputatessa'. Su alcune narrative misogine nell'Italia del Dopoguerra
In conversazione con Benedetta Cibrario (scrittrice)
12:30-14:00 Toronto; 17:30-19:00 Dublin (18:30-20:00 Roma)
6 May 2022
Session 10
9:00-10:30 Toronto; 14:00-15:30 Dublin (15:00-16:30 Roma)
Corpi nell'arte
Chair: Sara Delmedico (University College Dublin)
Helen Grixti (University College Dublin), Pawns on the Chessboard of Venetian Politics? Women as Saints in Venetian Renaissance Art
Maria Cardillo (Independent scholar), Angelica Kauffmann tra scritture private, fonti biografiche e pubblicistica d'arte italiana nella seconda metà del Settecento
Francesca Maria Gabrielli (University of Zagreb), Reclaiming the Female Body: Notes on Gentileschi's Revision of the Susanna theme
Session 11
10:45-12:15 Toronto; 15:45-17:15 Dublin (16:45-18:15 Roma)
Figure femminili tra reale e ideale
Chair: Manuela Di Franco (University of Toronto)
Serena Laiena (University College Dublin), The Body of the Actress in Early Modern Italy. The case of Maria Malloni (1599-post 1638)
Stefania Giovanna Mallamaci (Università della Calabria), Figure femminili nella commedia di primo Cinquecento
Teresa Agovino (Universitas Mercatorum), 'Onesta, savia, pura e vergognosa,/nelle promesse sue sempre virile'. La figura della donna in armi nel Morgante.
Session 12
12:30-14:00 Toronto; 17:30-19:00 Dublin (18:30-20:00 Roma)
Fashion Women & Women in Fashion
Chair: Alessio Aletta (University of Toronto)
Barbara Montesi (Università di Urbino), Ragazze di fronte all'obiettivo. Autorappresentazione generazionale nell'Italia fascista
Giorgia Gastaldon (Università dell'Aquila), Author or subject? Italian Women Artists' Self-representation in Photographic Portraits in the 1960s and 1970s
Claudia Dell'Uomo d'Arme (Sorbonne Université), Figure del femminile in Silvia Calderoni: la «musa gender» da GUCCI a MDLSX
Silvia Pizzirani (Università di Bologna), Natural Born Shoppers. Women and the moralisation of consumption in Italy during the 1970s