Event Information
Location
The Palace
18 Ludlow Street
C15 V267 Navan
Ireland
blk. & Reboot DJs at Palace Navan
About this event
We are delighted to announce that Reboot Events are back in the Palace , Navan for their first major show of 2022 with all restrictions lifted on the 28th of January and no better headliner to join them then Irish sensation blk. joined alongside home town royalty Reboot DJs and friends!
We've released a limited amount of pre-sale tickets which we do not expect to last long so grab yours asap 🤟
Palace Navan - 28/01/22
▀▀▀▀▀▀▀▀▀▀▀▀▀▀▀▀▀▀▀▀▀▀▀▀▀▀▀▀▀▀▀▀▀▀▀▀▀
𝐌𝐀𝐈𝐍 𝐑𝐎𝐎𝐌 :
blk.
Reboot DJs
▀▀▀▀▀▀▀▀▀▀▀▀▀▀▀▀▀▀▀▀▀▀▀▀▀▀▀▀▀▀▀▀▀▀▀▀▀
BLK. BIO :⠀
⠀
With previous releases on labels such as clipp.art , mainmase , reboot records ire and a string of self releases amassing an incredible 12+ million streams on soundcloud alone his production value is second to none and 2022 is looking huge for this incredible young producer,
Having also received support on his tracks from the likes of partiboi69 , tanya sanadze and absolute to name a few as well as having multiple sellout headline shows behind him including being announced for his first headline show for Shine Belfast at Limelight which sold out in just under 3 hours which has now been moved to the telegraph building with T78 as main support act all the while announcing his first international headline show in Glasgow taking place on Jan 29th which sold out within the hour plus a string of dates locked in across Ireland and Europe for 2022, over the coming months the possibilities for this man are endless
We expect to see plenty more support to come from many artists in the electronic world in the near future so stay tuned for more on blk.⠀
▀▀▀▀▀▀▀▀▀▀▀▀▀▀▀▀▀▀▀▀▀▀▀▀▀▀▀
Some of our favourite tracks from blk.👇
blk. - Enter The Dragon : https://soundcloud.app.goo.gl/eafeETx7KiYXP5vF8
blk. - I miss the warehouse : https://soundcloud.app.goo.gl/yQREjzAVPwKCXx1U6
blk. - I need a boiler room : https://soundcloud.app.goo.gl/c4xXK5j914EKwVyu5
▀▀▀▀▀▀▀▀▀▀▀▀▀▀▀▀▀▀▀▀▀▀▀▀▀▀▀▀▀▀▀▀▀▀▀▀▀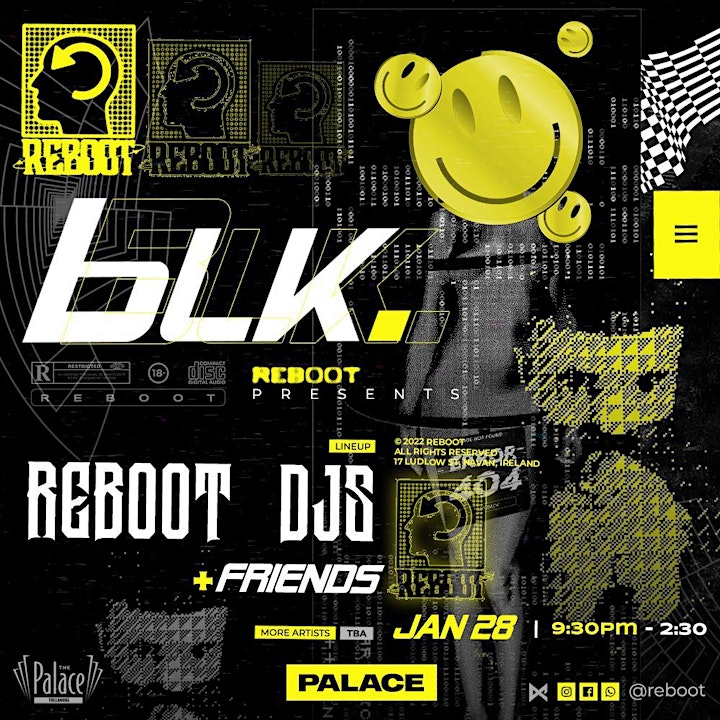 Date and time
Location
The Palace
18 Ludlow Street
C15 V267 Navan
Ireland
Refund policy