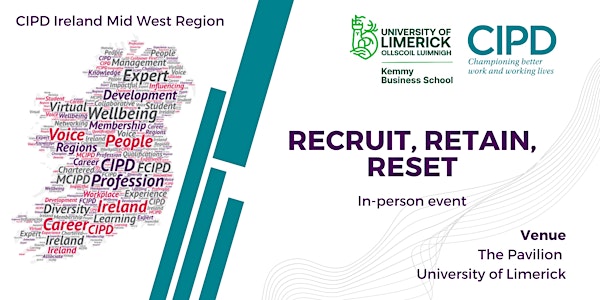 Recruit, Retain, Reset
Recruit, Retain, Reset hosted by the CIPD Ireland Mid-West Region
When and where
Location
The Pavilion University of Limerick Limerick Ireland
About this event
Join us on Thursday 12 January 2023 for the CIPD Ireland Midwest Region event in collaboration with University of Limerick 'Recruit, Retain, Reset' which will be held in the Pavilion, University of Limerick.
Talent management to attract, retain and develop are organisations top priorities over the next two years according to CIPD HR practices Ireland survey 2022. CIPD Midwest annual workshop in conjunction with University of Limerick will discuss the changing world of work to support retaining and attracting talent. We will discuss the academic research insights and practical organisation experience & help organisations build out their employer branding strategy for 2023 and beyond.
This event is in partnership with the Department of Work and Employment Studies, Kemmy Business School at the University of Limerick & CIPD Mid-West and sponsored by Collins McNicholas, Recruitment & HR Services Group.
Programme
09.00 - Registration and light refreshments
09.30 - Welcome and introduction to speakers
11.30 - Finish

Speakers include:
Prof Emma Parry, Chair, British Academy of Management, Cranfield University
Professor Emma Parry is a global Human Resource Management expert and Head of the Changing World of Work Group at Cranfield School of Management (UK). Her talk to the CIPD Mid-West branch will focus on an evidence-based approach to the future of work and with a particular emphasis on challenges associated with technology/automation, hybrid working, 4-day working week, retention and resignation.
Mary Lynch, HR Manager, Element 6 ( previously Stryker, 3 and Great Places to Work)
Mary is HR Manager in Element Six, a materials manufacturer based in Shannon and is currently leading a global People Value Proposition project. Her talk will focus on the current challenges they face in attracting talent and outline some of the culture and people value proposition work they have undertaken over the past year to retain people against the post covid resetting backdrop.
Gillian Horan, CEO & Founder of The Pudding Branding Agency
Gillian Horan is the CEO and founder of The Pudding – Ireland's award-winning brand agency delivering impact through strategy, design and communications.
Gillian is an author, educator, and speaker, and was nominated for both the IMAGE Businesswoman of the Year Awards in 2019 and the WMB Female Entrepreneur Award in 2022. In addition, The Pudding, under Gillian's creative direction, has won six national and international awards between 2021-2022.
With over 18 years of experience, Gillian has worked across the realm of branding with clients including Colgate, WP Engine, Blackrock Clinic, Sheraton, Carton House, Smyths Toys, and Renatus, and her portfolio spans private equity groups, large-scale multinationals and SMEs.
Please note
Photography and video production may take place at the event and these images may be used on future promotional materials for CIPD. Please note that by attending the event, you are giving your consent for your image to be used on any CIPD promotional materials.
For your security and peace of mind, CIPD and its subsidiaries will not supply your details to any organisation for marketing purposes. By submitting this request you confirm that you agree to the use of your information as set out in CIPD's privacy policy. We reserve the right to include your name in a list of delegates at the event.
Non-members may click here to sign up to receive our e-newsletters which will keep you up-to-date with HR news in Ireland as well as CIPD Ireland events and survey research.
Cancellation Policy:
If you are unable to attend, please cancel your booking so that it can be released and made available to members on the waitlist.