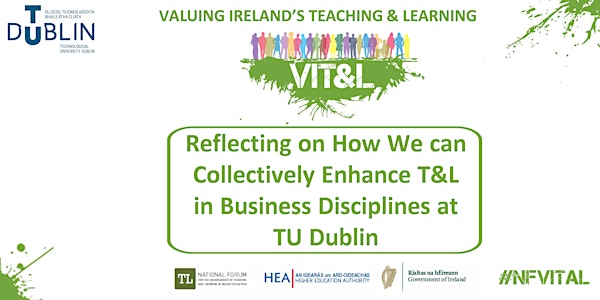 Reflecting on How We can Collectively Enhance T&L in Business Disciplines
Reflecting on How We can Collectively Enhance T&L in Business Disciplines in TU Dublin
Date and time
Fri, 19 Nov 2021 05:15 - 07:30 PST
About this event
Enhancing student engagement and success is at the core of planning for a new blended learning environment, and Technological University Dublin is aiming for all stakeholders have a voice in the technology and techniques being implemented including staff, students and professional services. As part of this collaborative process, you are invited to celebrate and recognize our student's success in progressing during the pandemic through a series of strategic conversations to share experience and shape our practice as we step beyond our emergency move to Responsive Blended Learning to a 'new normal'. These conversations will take place over two online events, with the context being how teaching and learning is valued in the Faculty of Business, TU Dublin.
Our second event is 'Reflecting on How We can Collectively Enhance T&L in Business Disciplines in TU Dublin' and takes place 19th November,1.15pm – 3.30pm. At 1.15pm attendees are invited to join to view staff videos, event will open with an address from Dr. Eoin Langan.
Reflective Online Workshop
To bring our collective knowledge-sharing forward, staff from across the Faculty will work together through online breakout rooms to reflect on the experiences presented by the students and identify what, as a new Faculty, we can take from this experience into our strategic Teaching, Learning & Assessment policy.
The output of these workshops will allow us to identify the practical actions that really bring learning and teaching to life in Business disciplines for the future, while allowing staff across the Faculty to network across the Campuses.
Plenary Session
The plenary session to conclude this first series of conversations will allow students from across the faculty business disciplines to share their own experience and learnings both during and post pandemic, and set out their vision for what success in this space should look like.