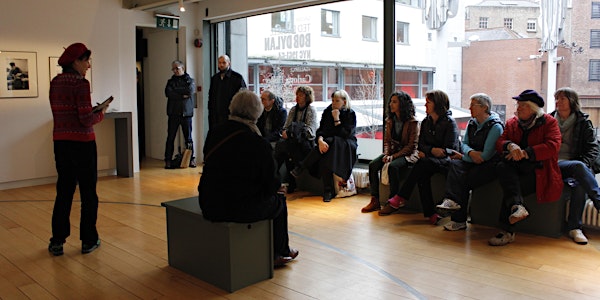 Relatively Speaking : A guided walking tour across three city art galleries
Location
Temple Bar Gallery + Studios
5-9 Temple Bar
DUBLIN 2 Dublin
Ireland
Description
Thursday 3rd March | 1pm | Free Event
Meeting point: Temple Bar Gallery + Studios
Booking is essential.
Would you like an opportunity to introduce your friends and family to contemporary art? Relatively Speaking is the guided walking tour that takes place across three of Dublin's most well-known contemporary art galleries, Temple Bar Gallery + Studios, Project Arts Centre and the Gallery of Photography. The tours introduce their current exhibitions to those who might not be so familiar with contemporary art and offer an interesting insight into the work for those who are. The whole tour, contained within Temple Bar, will take about 60 minutes (approx.), with 15-20 minute tours taking place in each gallery.
Beginning at Temple Bar Gallery + Studios, you will be introduced to the new solo exhibition Imitation of Life by Amie Siegel. Visitors will be guided to the next venue, Project Arts Centre, for an introduction to Núria Güell's solo exhibition Troika Fiscal Disobedience Consultancy. Finally, the tour will end at the Gallery of Photography, where you will be guided through the exhibition of photographs by award-winning Guardian photographer Graeme Robertson, Framing Perceptions.
We'll meet on Thursday 3rd of March at 1pm at Temple Bar Gallery + Studios. Book a spot for your parents, friends, cousins, housemates and anyone who you think might like to learn more about the things you love.