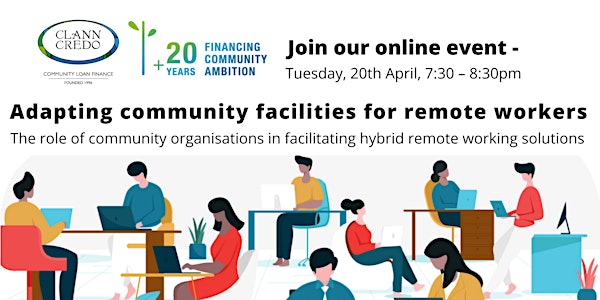 Remote Working and Communities – Adapting Community Facilities
Adapting community facilities for remote workers - the role of community organisations in facilitating hybrid remote working solutions.
About this event
The Covid-19 pandemic has propelled forward the move towards remote working and opened up the possibility of alternatives to time-consuming and unsustainable office-based working practices. For workers there have been many benefits such as greater flexibility and more time for family and friends. For many however, enforced working from home has brought a new array of challenges including;
Lack of access to high-speed broadband
Lack of suitable work-space at home
Lack of social interaction throughout the working day
Community organisations have a key role in the transition to sustainable remote working and hybrid working practices, facilitating access to broadband and quality work space and offering new modes of connecting through work.
Údarás na Gaeltachta recognise the importance of adapting community infrastructure to meet the emerging demands of remote working and have a unique insight into the future of remote work in Ireland's Gaeltacht communities.
Communities across Ireland are presenting innovative solutions and expanding their services to include provision of facilities and access to broadband.
Join us for an insightful discussion on the role of community organisations in facilitating the move to remote working and promoting a more holistic view of our towns, cities and villages as places to live, work and socialise.
Speakers will include:
Tracey Hannon, Clann Credo – Community Loan Finance
Sean O'Coisdealbha, Údarás na Gaeltachta
Alma Gallagher, Clár Community Projects, Claremorris, Co. Mayo
Why attend this event?
Get insights into current trends and how the Government strategy on remote working will impact on communities, making remote working a permanent option for life after Covid-19
Find out why workers want to be able to work near home, but not at home.
Find out about the types of facilities and services required to promote sustainable remote working practices.
Hear from a community that has adapted facilities to enable remote workers and students to access high speed broadband.