Location
RDI Hub
Killarney Road
V93 KP68 Killorglin
Ireland
Come visit the RDI hub on Thursday 30th June to grab a coffee, meet the team and check out the amazing facilities.
About this event
Looking into remote working options? Curious about the RDI hub space? Thinking of availing of the Connected Hubs Voucher scheme? Call into the RDI hub on June 30th! Grab some coffee and pastries, meet the team, chat to existing members and check out the amazing space.
We will be running this event in the morning and the evening, so if you can't make the morning event, we will repeat it at 3.00pm! It's very casual, just pop in and say hello!
Here's what we're thinking...
11.00 - 11.30 | Meet the RDI hub team - coffee and pastries in the collaboration space
11.30 - 12.00 | Tour of the facilities - you know you want a look around! : )
12.00 onward | Make yourself at home! Find a desk and fire up your laptop, or mingle and chat with the wider RDI Hub community
Why attend?
We all know remote working looks different to different people. Some people prefer the convenience of working from home, whereas some prefer the option to work from an office type environment, or maybe a mix of both.
RDI hub offers custom-built, state of the art facilities. Over 20,000 square feet of innovation space house a collaboration area, an events space with a 9 screen video wall, a series of meeting rooms of varying sizes, and a multitude of desk options, couches, pods, standing desks, we've got it all.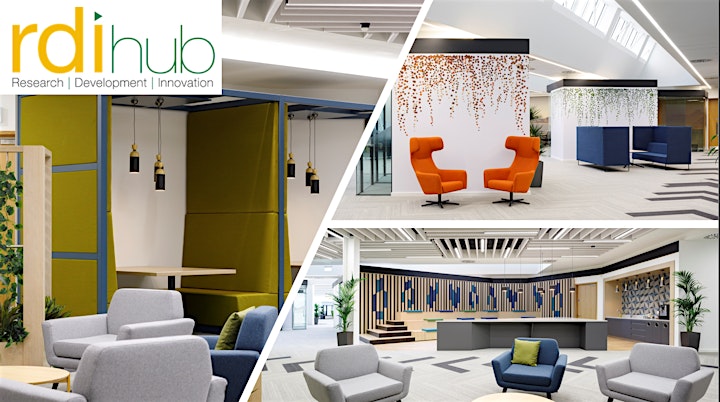 Just 15 minutes from Kerry Airport, 3 minutes from the bustling town of Killorglin, and 15 minutes from Killarney, you'll find RDI Hub at the entrance to the charming town of Killorglin, on Killarney Road, V93 KP68.
Call in and have a look around on June 30th. Bring your laptop, hang around for a bit and get a feel for the place. We look forward to seeing you!