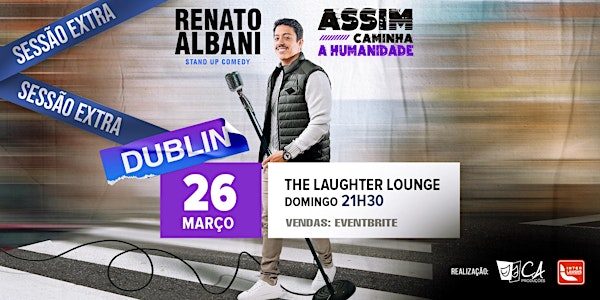 Renato Albani em Dublin - Sessão Extra
Renato Albani traz para Dublin seu quarto show solo,"Assim caminha a humanidade" - SESSÃO EXTRA 21:30!
Date and time
Sun, 26 Mar 2023 19:30 - 20:30 IST
Location
Laughter Lounge 8 Eden Quay D01 WY93 Dublin 1 Ireland
About this event
Sessão Extra as 21:30hr
SOBRE RENATO ALBANI - Capixaba, 37 anos, radicado em São Paulo, Engenheiro Eletricista de formação e sem saber começou a
fazer comédia na escola, quando seus professores davam a ele os 5 minutos finais de suas aulas para fazer imitações e contar piadas.
Profissionalizou-se em 2010 quando passou a integrar o grupo Comédia 027, em Vitória - Espírito Santo e esteve em cartaz por mais 3 anos semanalmente no bar Mercearia Botequim, além de se destacar no cenário capixaba como grande revelação do humor do estado. Tem em seu currículo participações no programa Tudo é Possível com Ana Hickman, The Noite com Danilo Gentili, além de ter shows e programas no canal Comedy Central. Se apresentou em eventos de empresas como Banestes Seguros, Jr Archievement, Vale, Redbull, Grupo Sá Cavalcante, Faveni, Lorenge S.A, Vivo, Crea- ES, Civit, PMI-ES, Espírito Santo Convention & Visitors Bureau e Samsung.
Como roteirista fez a oficina de roteiro com José Roberto Torero (2014) em Vitória no festival Vitória Cine Vídeo e o curso de roteiro para estórias ficcionais com Thiago Fogaça (2014) em São Paulo
Ingressos não reembonsável .
SERVIÇO
Local: The Laughter Lounge
Endereço: 8 Eden Quay, North City, Dublin 1,
Data: 26/03/2023
Horarios 19:30 e 21:30
Classificação etária: 18
Garanta se ingresso e divirta-se!
About the organiser
Trazendo o melhor da comédia Brasileira para a Europa