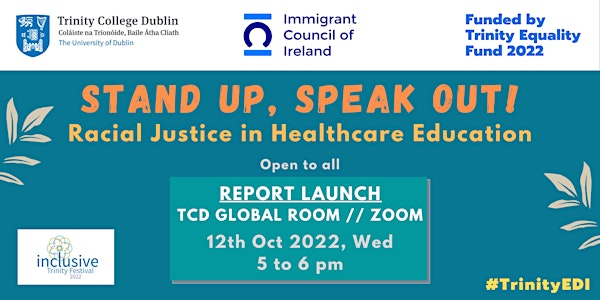 Report Launch. TCD Equality Project: Racial Justice in Healthcare Education
'Stand up, Speak out!' Racial Justice in Healthcare Education. Report launch available in-person (TCD Global Room) and online (Zoom)
When and where
Location
Global Room First Floor, Watts Building Dublin Ireland
About this event
Registration - In-person attendance
Please register using Eventbrite.
Registration - Virtual
Please register on Zoom by clicking here.
Enquiry
Please contact the Project Organiser Aaron Koay (he/him) at cheechek@tcd.ie if you have any queries.
Who organised this event?
TCD Faculty of Health Sciences Equality, Diversity and Inclusion Group in collaboration with the Immigrant Council of Ireland
What is this project?
Click here to find out more about the project.
There have been a number of reports of racism directed at minoritised ethnic healthcare students at Trinity. These reported incidents include microaggressions, bullying and physical assaults, with alleged perpetrators including patients, colleagues and teaching or clinical staff.
The "Stand Up, Speak Out! Racial Justice in Healthcare Education" project aims to develop racial justice in healthcare education at Trinity by leveraging the lived experiences of MEHSs to inform strategy, policy, education and research directions. To achieve that, a bespoke racial justice virtual convening for minoritised ethnic healthcare students was held on 19th May 2022, which was attended by students across the Faculty of Health Sciences. The experiences of these students were collated, summarised and analysed by the project team to generate a bespoke report, which we are launching on 12th Oct 2022. It is hoped that this project will benefit future minoritised ethnic healthcare students in the Faculty and wider University.
This project is funded by Trinity Equality Fund 2022 from the Trinity Equality Office.
Who is this for?
Open to everyone interested in this topic.
What will it involve?
The report launch will involve two parts:
1) Report presentation by project members
2) Panel discussion on the report
Where can I access the report?
The report will be made available online after the event. We will circulate the link to attendees.
When and where?
Date: 12th Oct (Wed), 2022
Time: 5 to 6 pm
Venue: TCD Global Room or Zoom
Tell me more about the event schedule?
Opening Remarks
Dr Siobán O'Brien Green, Equality Officer, Trinity College Dublin
Valéria Aquino, Integration Officer, Immigrant Council of Ireland
20-min Report Presentation
Aaron Koay, Project Organiser and Co-leader (Student)
Dr Miriam Galvin, Project Co-leader (Staff)
20-min Panel Discussion
Dr Siobán O'Brien Green, Equality Officer, Trinity College Dublin
William Reynolds, Medical Student, Trinity College Dublin
Dr Miriam Galvin, Project Co-leader (Staff)
----------
Project Members
TCD Faculty of Health Sciences EDI Group
• Project Organiser & Student Co-leader: Aaron Koay, Student Co-chair of FoHS EDI Group
• Staff Co-Leader: Dr Miriam Galvin, Associate Professor, School of Medicine
• Lena Doherty, Faculty Administrator, Faculty of Health Sciences
• Claire Murphy, Chief Technical Officer (Specialist) and Staff Co-chair of FoHS EDI Group, School of Medicine
• Cathy Cunningham, Assistant Professor, School of Medicine
• Olayinka Aremu, PhD student, School of Nursing & Midwifery
Immigrant Council of Ireland
• Teresa Buczkowska, Integration Manager
• Valéria Aquino, Integration Officer