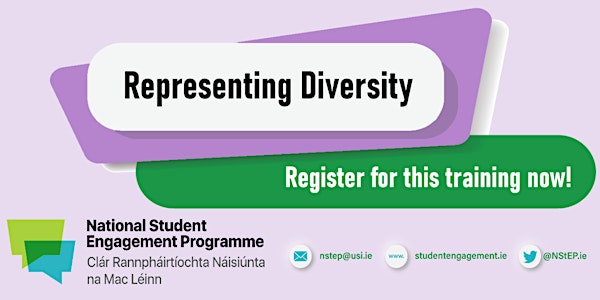 Representing Diversity Training
This training introduces tools and resources to help you effectively represent your diverse classmates and empower them to get involved!
By National Student Engagement Programme (NStEP)
Date and time
Fri, 10 Feb 2023 04:00 - 05:30 PST
About this event
NStEP's Representing Diversity training builds on the skills developed in Introductory Class Rep Training by exploring tools and resources to help you effectively represent your diverse classmates and empower fellow students from all backgrounds and lived experiences to get involved in decision-making. We believe that class reps have a crucial role in ensuring that higher education is an inclusive and welcoming place, where every voice is heard and every student can become involved in shaping their learning experience.
This training will help you to:
• Recognise how to represent your diverse peer group
• Apply tools, resources and key concepts to your role as a Class Rep to represent your diverse peer group effectively.
• Identify and express the importance of diversity within student engagement practices
• Understand the need to empower students from diverse backgrounds through your work as a Class Rep.
Who may attend?
Any student representative from one of NStEP's participating institutions/students' unions may sign-up to attend training.
How will training work?
Training will be held online using Zoom and last for 90 minutes. A link to the Zoom meeting will be provided after registering on Eventbrite. We recommend that you enter the zoom waiting room a few minutes before your training session is scheduled to bein.
Training will be peer-led by NStEP's student trainers. Click here to meet our experienced team of student trainers.
Recognition and Future Opportunities
Student reps who complete this training will be awarded an NStEP Recognition Award, in the form of a digital badge. This will be emailed to you using the email address that you provide through eventbrite when registering. If you also completed NStEP's Introductory Class Rep Training or Advanced Class Rep Training you can use the Representing Diversity Training to continue working towards a Student Engagement Recognition Award. Click here to learn more about how to achieve this national award.
NStEP will use the email address you provide when registering on Eventbrite to issue your digital badge, as well as contact you about future training opportunities, events, and online resources. Click here to read our privacy policy.
About the organiser
Developing the leadership capabilities of students in Irish higher education through training has been central to NStEP's work since the programme was first piloted in 2016. Our Introductory Class Rep Training module has been the cornerstone of the NStEP Student Training Programme, and to date over 5,300 students have participated in our training programme. For more information on our training programme, resources, and news about upcoming opportunities and events, please visit https://studentengagement.ie