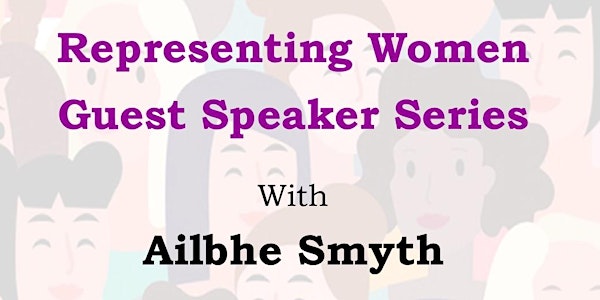 Representing Women - Guest Speaker Series - Ailbhe Smyth
We're delighted to finish our Representing Women guest speaker series with feminist, LGBTIQ and socialist activist, Ailbhe Smyth
About this event
Representing Women is a programme facilitated by Limerick Women's Network which aims to support and encourage more women to put themselves forward for representative roles in their community. As part of the Representing Women guest speaker series we are delighted to have Ailbhe Smyth join us for our last event in the series on Thursday, May 27th at 7pm.
Ailbhe will speak about her activist work which includes the Marriage Equality and Repeal Campaign. There will also be a Q&A session.
Ailbhe Smyth is a feminist, LGBTIQ and socialist activist. She was the founding head of Women's Studies at UCD where she taught for many years. Most recently, Ailbhe played a leading role in the Marriage Equality referendum, co-founded the Coalition to Repeal the 8th Amendment, and was Co-Director of the Together for Yes national referendum campaign. She is currently Chair of Women's Aid and is also campaigning with Le Cheile: Diversity not Division against the growing strength of far right extremism in Ireland.
In 2019, Ailbhe was listed as one of Time Magazine's 'Most Influential People'. She lives in Dublin, and has one daughter who lives in London and has two children who are the apple of their grandmother's eye.
This event includes Irish Sign Language Interpreters.
Follow Limerick Women's Network on facebook!
Supported by Limerick City and County Council.
About NCCWN Limerick Women's Network
The Limerick Women's Network aims to promote gender equality through its work with women who experience multiple forms of oppression. We provide an information and drop in service for women, and supply information on a range of issues such as health provision, screening services and Violence against Women services. Additionally, we provide supports for women to return to education and training and to access employment and/or volunteering opportunities. We work with all women but specifically our focus is on women who experience marginalisation and those from vulnerable communities.