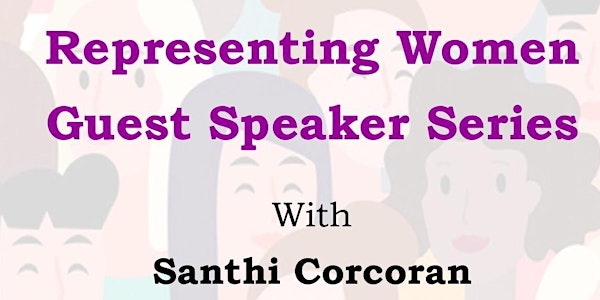 Representing Women - Guest Speaker Series - Santhi Corcoran
We're delighted to continue our Representing Women guest speaker series with lecturer and community activist Santhi Corcoran
About this event
Representing Women is a programme facilitated by Limerick Women's Network which aims to support and encourage more women to put themselves forward for representative roles in their community. As part of the Representing Women guest speaker series we are delighted to have Santhi Corcoran join us on Thursday May 13th.
Santhi will speak about her background in regeneration work in London and her experiences as a lecturer and researcher and being the co-founder and co-chair of Midwest Migrant Community Network. There will also be a Q&A session.
Santhi Corcoran is a Lecturer and Doctoral Researcher in Mary Immaculate College, Limerick. She has a professional background in Healthcare, Social Care, Social Psychology, Regeneration and Community Development. She teaches both undergraduate and post-graduate courses in Sociology of Education, has developed a programme on Global Citizenship, Migration, and Intercultural Studies. Santhi also contributes to post-graduate programmes in Clinical and Cross-Cultural Psychology. Her research interests are in the field of Intercultural and Global Citizenship Education, Ethics, Psychology, Mental Health and well-being, Intercultural Competence and Dialogue, Community Engagement, Youth Empowerment and Diversity. She has contributed to health, education and migration research and developed services for displaced communities in the United Kingdom and supported and co-developed support projects in the Republic of Ireland. Santhi is the co-founder and co-chair of the Midwest Migrant Community Network; a network based in Limerick. The network focuses on empowering local communities and youth, via social justice, education, and community engagement initiatives.
This event includes Irish Sign Language Interpreters.
Follow Limerick Women's Network on facebook!
Supported by Limerick City and County Council.
About NCCWN Limerick Women's Network
The Limerick Women's Network aims to promote gender equality through its work with women who experience multiple forms of oppression. We provide an information and drop in service for women, and supply information on a range of issues such as health provision, screening services and Violence against Women services. Additionally, we provide supports for women to return to education and training and to access employment and/or volunteering opportunities. We work with all women but specifically our focus is on women who experience marginalisation and those from vulnerable communities.