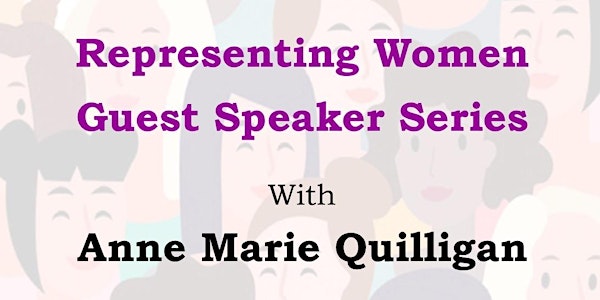 Representing Women - Guest Speaker Series - with Anne Marie Quilligan
We are delighted to continue our Representing Women guest speaker series with Anne Marie Quilligan
About this event
Representing Women is a programme facilitated by Limerick Women's Network which aims to support and encourage more women to put themselves forward for representative roles. As part of the Representing Women guest speaker series we are delighted to have Anne Marie Quilligan join us on Thursday April 15th.
Anne Marie will speak about her activism and community work. There will also be a Q&A session.
Anne Marie Quilligan is a campaigner for housing rights, education, equality, inclusion and raising political awareness. She graduated from the Limerick Institute of Technology (LIT) with an award for overall excellence, with a BA (Hons) in Social Care Work.
As a social care worker, she supports young adults who are transitioning from residential living to independent living via Rehab Care. She also works as a Health and Community Development worker with Tipperary Rural Traveller Project and is a volunteer with Bedford Row Family Project, which supports individuals impacted by imprisonment.
In addition, as a peer researcher with the Social Work and Research Practice she helps to explore the mental health and well-being of Traveller mothers in prison. She is a member of the Traveller Graduate Network which aims to support Travellers accessing higher or further education.
This event will have ISL Interpreters.
Supported by Limerick City and County Council