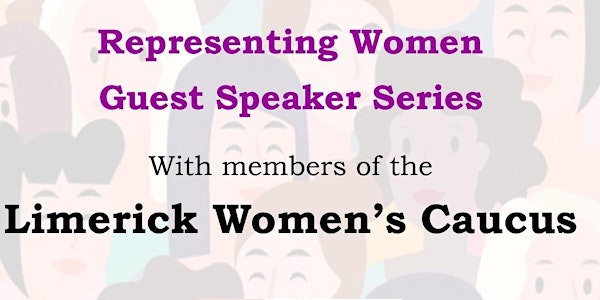 Representing Women - Guest Speaker Series -with the Limerick Women's Caucus
We are delighted to continue of Representing Women guest speaker series with members of the Limerick Women's Caucus
About this event
Representing Women is a programme facilitated by Limerick Women's Network which aims to support and encourage more women to put themselves forward for representative roles. As part of the Representing Women guest speaker series we are delighted to have two Limerick Councillors and members of the Limerick Women's Caucus joining us, Councillor Sarah Kiely and Councillor Elisa O'Donovan.
The Councillors will speak to us about their journey into politics, the Limerick Women's Caucus and what advice they would give other women who wanted to follow in their footsteps. There will also be a Q&A session.
The Limerick Women's Caucus was established in 2019 comprises of Limerick City & County Council's women Councillors. It was formed to support women in politics, work cross party on women's issues and encourage more women into public life. NCCWN Limerick Women's Network act as secretariat.
Supported by Limerick City and County Council.