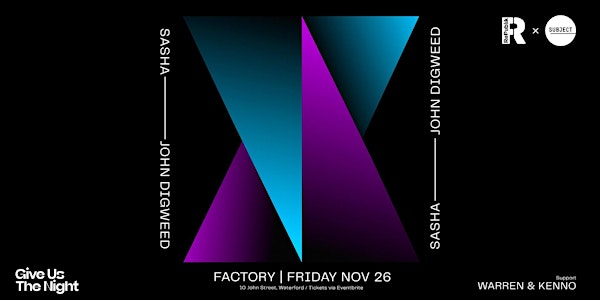 Republik x Subject : Sasha & John Digweed
Republik are delighted to team up with Subject Events to bring the iconic duo Sasha & Digweed to Waterford together for the first time..
When and where
Location
Factory 30 John Street Waterford Ireland
About this event
Sasha & John Digweed
Republik x Subject at Factory
Fri 26th November 2021
Support: Warren & Kenno
Sasha & John Digweed are a British DJ duo comprising Sasha and John Digweed. Digweed had been DJing for ten years before getting a gig at Renaissance where he met Sasha, who had been working the past few years in various acid house music clubs and raves. Together, they honed their DJ skills, focusing on track selection and technical mixing abilities. In 1994, they released the triple CD mix album Renaissance: The Mix Collection on Renaissance Records. It contained many popular dance hits of the time from artists such as Leftfield, Fluke, and 2 Bad Mice as well as original productions and remixes from themselves. Two years later, the duo became "true superstars" (AllMusic) with the release of their double CD Northern Exposure on mega-label Ministry of Sound. This release was brought to the United States the next year in a single CD package on Ultra Records. 1997 saw the release of the Northern Exposure 2 double CD mix album, again on Ministry of Sound. Sasha and Digweed toured internationally, helping define the sound of progressive house & trance music in the late 1990s. In 1998, both John Digweed and Sasha released separate mix albums on Boxed as part of the Global Underground series with Digweed's GU 006: Sydney and Sasha's GU 009: San Francisco release.
In the late 1990s, Digweed and Sasha took up residency at New York City's famous Twilo nightclub as well as releasing their third edition in the Northern Exposure series: Northern Exposure: Expeditions. They both continued their success in the Global Underground series with Digweed's GU 014: Hong Kong and Sasha's GU 013: Ibiza. In addition to their residency, they toured the United States, especially to promote their DJ mix Communicate in 2000. Shortly thereafter, they embarked on their international Delta Heavy Tour in 2002. They have collaborated little since Delta Heavy. They appeared together at the 2007 Bonnaroo Music Festival, and counted down the new year during a four-hour set in Los Angeles at Together As One.
In 2008, Sasha & Digweed announced their plans to do another tour of North America taking in 21 cities in one month, as they announced the Sasha and John Digweed Spring Club Tour 2008. The tour began at the Winter Music Conference on 27 March at the club Mansion. This was the first time they toured North America together in six years.