How story and our stories can teach us about resilience and hope in our lives
About this event
Resilience through Storytelling
A workshop about celebrating old stories and helping us to create new stories.
Maria has led workshops in University, Corporate and Community Environments. She looks at the shapeshifting possibilities that a paradigm shift can allow through the lens of story.
She is very interested in the wisdoms that old myths and legends can bring to the modern world. This year she won the Bealtaine Hero Award to build resilience stories through harvesting the wisdoms of yesteryear. Three new stories were born that now live on the Kerry Writers Museum's YouTube channel (https://youtu.be/Vs6P_li6AOI)
In this workshop we will explore listening - not just with our ears, but with our hearts and spirits as well. If you listen to stories in between the lines, what will you hear? If you find the right kind of stillness will you hear the stones sing?
Feedback from previous groups - 'The day flew -always does when you are having the time of your life.' 'Forget expectations - this is an experience.' 'Who knew how good the Magic Box could make you feel?!'
Please wear comfortable clothes, bring your favorite blanket or pillow and sense of child wonder.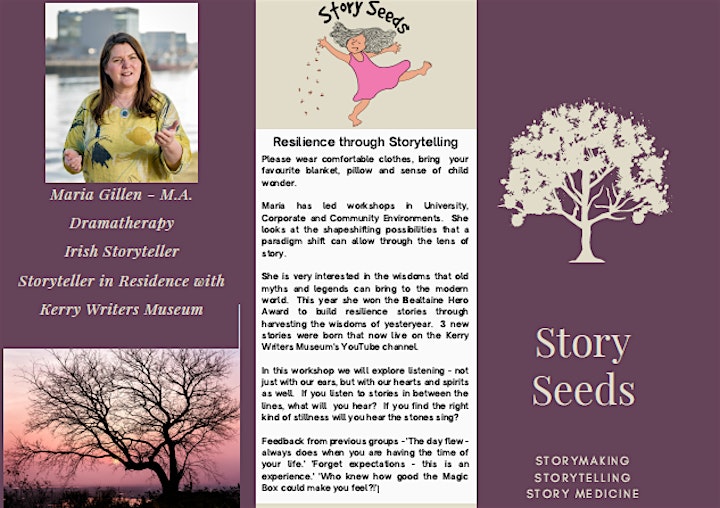 Organiser of Resilience through Story
FCJ Spirituality House, formerly Ibriken Lodge, is a gentle haven for spiritual searchers. Here we make time to appreciate Gods creation, to share unrushed moments together and to accompany one another on our own particular faith journey. All are welcome to enter into the spirit of this lovely home by the sea, where we can so clearly see 'nature as a magnificent book in which God speaks to us' each morning (Pope Francis, LS12)

The FCJ Spirituality House is the summer home of the FCJ sisters who have loved to visit Spanish Point for generations. Now they would like to share their home with the wider community through spiritual moments, enjoyment of the natural beauty of creation, and the lifting of spirits with music, art and poetry.

Noirin Lynch is the Director of the House - a Limerick woman based in Clare, a pastoral worker with almost 30 years experience in diocese, parish and spirituality centres.

During these times, we ask all visitors to the site to have their Covid Cert ready, and where appropriate to mask out o an abundance of care for one another.