Event Information
Location
V95 E0W7
FCJ Spirituality House
Breaffy South
V95 E0W7 Spanish Point
Ireland
How story and our stories can teach us about resilience and hope in our lives
About this event
Resilience through Storytelling
A workshop about celebrating old stories and helping us to create new stories.
Maria has led workshops in University, Corporate and Community Environments. She looks at the shapeshifting possibilities that a paradigm shift can allow through the lens of story.
She is very interested in the wisdoms that old myths and legends can bring to the modern world. This year she won the Bealtaine Hero Award to build resilience stories through harvesting the wisdoms of yesteryear. Three new stories were born that now live on the Kerry Writers Museum's YouTube channel (https://youtu.be/Vs6P_li6AOI)
In this workshop we will explore listening - not just with our ears, but with our hearts and spirits as well. If you listen to stories in between the lines, what will you hear? If you find the right kind of stillness will you hear the stones sing?
Feedback from previous groups - 'The day flew -always does when you are having the time of your life.' 'Forget expectations - this is an experience.' 'Who knew how good the Magic Box could make you feel?!'
Please wear comfortable clothes, bring your favorite blanket or pillow and sense of child wonder.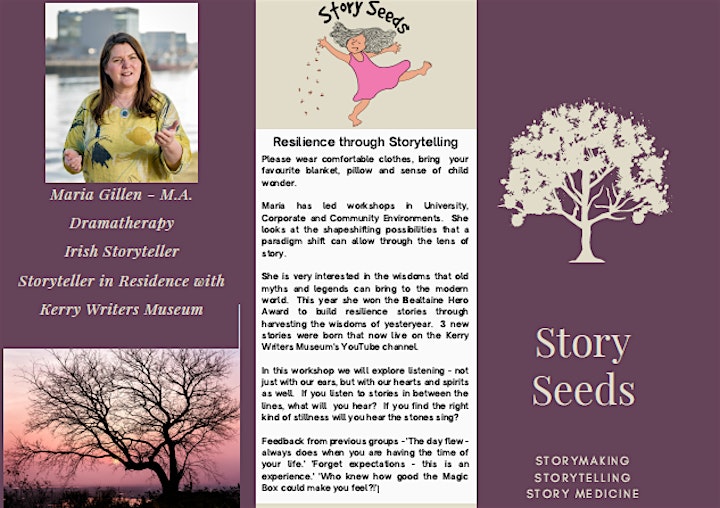 Date and time
Location
V95 E0W7
FCJ Spirituality House
Breaffy South
V95 E0W7 Spanish Point
Ireland