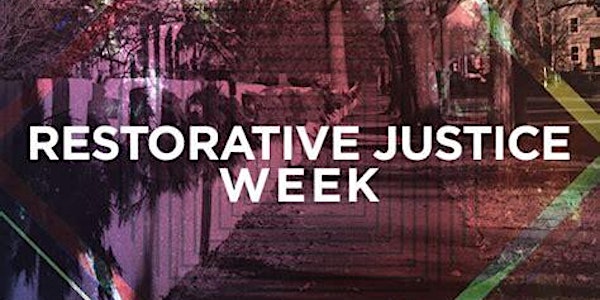 Restorative Justice "Public Perception vs. Strategic Direction"
Lunchtime seminar, featuring public vox pop and their views on RJ, with a panel afterwards discussing if the right messages are getting out
About this event
Le Chéile's Restorative Justice Project and the Limerick Restorative Practices Project proudly present a lunchtime seminar, which asks the question: Is the message about Restorative Justice getting out there?
This seminar will feature a public vox pop and panel discussion afterwards by Ursula Fernee (Assistant Principal Probation Officer) and other leading figures from the Irish RJ scene and will be chaired by Dr. Ian Marder (Lecturer in Criminology, Maynooth).
It promises to look at current messaging and what can be done differently into the future and should be of interest to anyone working the restorative practice or justice field, but also to the wider public, given the fact that any of us could be in need of a restorative process at some point in our lives.
Panelists:
Ursula Fernee, Assistant Principal Probation Officer, Irish Probation Service
Ursula has worked in practitioner and managerial roles in the Probation Service across a number of settings including, community, prisons, multi-disciplinary projects and Research, Learning and Development. She currently leads the team working in the Restorative Justice and Victims Services Unit. She has contributed to national and international conferences on a range of subjects including the application of RJ in Probation practice as part of last year's annual symposium in the European Forum for Restorative Justice. She is joint editor of Irish Probation Journal, a shared initiative by Probation Services North and South.
Inspector Ollie Kennedy
Stationed in Henry Street Garda Station where he is the Assistant Superintendent.
Has 27 years service in An Garda Siochana with a significant period attached to Community Policing in Limerick City, is currently also responsible for Community Relations in the Limerick Garda Division. Also Serves on the Advisory Groups for both the Le Cheile Restorative Justice Project and the Limerick Restorative Practices Project.
Chair:
Dr. Ian D. Marder is Assistant Professor in Criminology at Maynooth University, School of Law and Criminology. His research and policy work focuses on the implementation of restorative justice and restorative practices in criminal justice contexts. This includes being a European and Irish coordinator of Restorative Justice: Strategies for Change, a 10-country project which seeks to implement the recent Council of Europe Recommendation concerning restorative justice in criminal matters, which, in 2017-81, he worked for the Council of Europe to draft.
Zoom details will be issued prior to the event.
Places are limited so, if for any reason you cannot make it on the day, please let us know so your place can be reallocated.