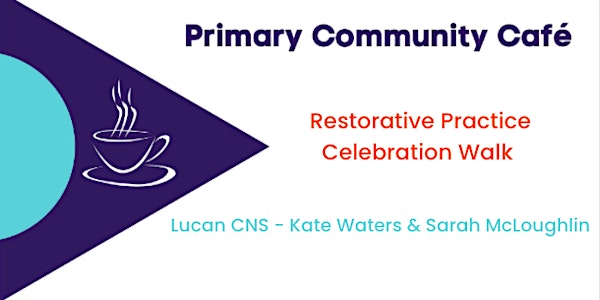 Restorative Practice Celebration Walk (in a primary setting)
Community Cafés are a chance to gather with RP practitioners and learn from and contribute to the collective wisdom of the group.
About this event
Community cafés are facilitated by members of the ConnectRP team and each has a guest contributor. This is the second in the series of two primary cafés. The theme is...
Restorative Practice Celebration Walk (in a primary setting)
The purpose of this 'walk' is to highlight that the teachings of Restorative Practice have a special place within school life. The ten themes of the walk are inspired by the Friendship Keeper programme, every station is a topic from this programme and brought to life by the RP UBUNTU implementation team within the school. Lucan CNS – Kate Waters & Sarah McLoughlin
The walk was an opportunity to pre-teach the topics before completing the booklet.
One week in February all classes are given a special allocated daily time to walk around the school, learning at our RP stations.
The UBUNTU team prepare these stations in advance and the class teachers and pupils profit from them.
Pupils see Restorative Practice as a way of being, they are embedded in this special characteristic spirit. This special celebration walk demonstrates to pupils that Restorative Practice is not only uses to resolve matters of conflict, however, it is a tool to enhance relationships with peers, teachers and self.
By taking the children out of the classroom setting and by practising these values as a whole school we created unity and cohesion.
The pupils benefit from this celebration walk and teachers have the privilege of witnessing the "aha moments", insightful thinking and most importantly pupils make positive associations with Restorative Practice.
Meet the ConnectRP team here. This session will be hosted by our Connect RP Facilitators, Aishling & John!
Zoom Link:
Michelle Stowe www.connectrp.ie is inviting you to a scheduled Zoom meeting.
Topic: Community Cafés
Join Zoom Meeting
https://us06web.zoom.us/j/97025740691
Meeting ID: 970 2574 0691
One tap mobile
+35315369320,,97025740691# Ireland
+35316533895,,97025740691# Ireland
Meeting ID: 970 2574 0691
Find your local number: https://us06web.zoom.us/u/keJaYgr4ck