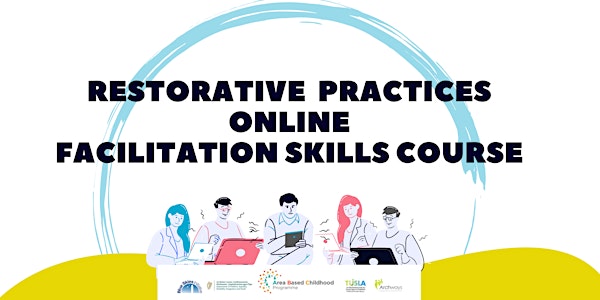 Restorative Practices, Facilitation Skills , online course.
This online course builds on the Getting Started with Restorative Practice training with a focus on RP circles, meetings and conferences.
About this event
If you have completed a Getting Started with RP course this training is for you. It builds on that training explaining what restorative circles, meetings and conferences are, what they can be used for and how they are facilitated. Training is for those living and or working in Clondalkin, Balgaddy and Adamstown.
During this training you will learn how to facilitate:
Restorative Circles – which can be used to build good relationships in groups or to solve problems in groups
Restorative Meetings – which are used to resolve conflict in groups;
Restorative Conferences – which are used to address serious wrongdoing. RP Conferences work on the basis that the wrongdoer takes responsibility for their actions and the people harmed by the wrongdoing are supported to overcome and move on from that harm.
Restorative Practices is a collaborative and proactive values based way of being that aims to build community and manage conflict by modelling positive behaviour.
This 8 session course is for you if you have completed the Getting Started with Restorative Practices course. It is facilitated online via Zoom.
Training takes place every Monday and Friday,10am – 12 on the following dates
Monday 27th September
Friday 1st October
Monday 4th October
Friday 8th October
Monday 11th October
Friday 15th October
Monday 18th October
Friday 22nd October
Attendance to all days is necessary.
We will contact you prior to training with the Zoom log in links and training information.
Any other questions or queries contact Jess Tobin on jtobin@archways.ie