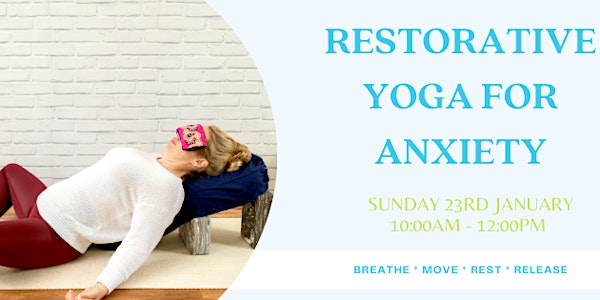 Restorative Yoga for Anxiety
Restorative Yoga session with breathwork and meditation to relieve feelings of overwhelm and anxiety.
When and where
Location
Felda Health, Spa & Fitness Dublin Road Dundalk Ireland
Refund Policy
Contact the organiser to request a refund.
About this event
In our world today, we are being constantly bombarded with messages of danger.
Everywhere we go, we are receiving these messages, sometimes consciously, mostly unconsciously and they are having a cumulative affect on our nervous systems leading to feelings of uneasiness, stress and anxiety.
People wearing masks. Signs everywhere to stay 2 metres apart. Signs asking you to wash your hands, stay at home. Advertisements for Covid testing, the main topic of conversation in the news and in your home. It's literally EVERYWHERE! 🥺
This workshop is designed to help take your body out of 'fight or flight' mode. We will do this through specific breathwork, movement and meditation.
- Our breathing patterns are literally the quickest way to alter the nervous system.
- Physical postures can impact the brain, making it feel safe or in danger. We will focus on the ones that create a sense of safety.
- And meditation will bridge the gap between the mind and the body. When we are in a constant state of stress, we disconnect from our physical body and become 'stuck' in the thinking mind. Meditation helps us become unstuck.