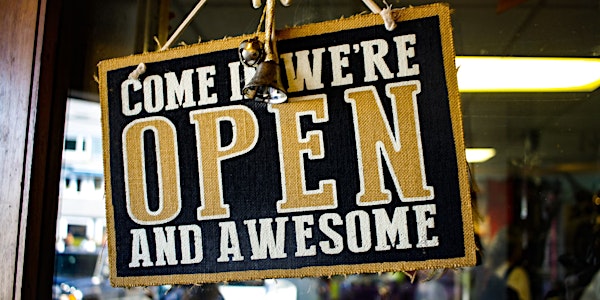 Retail Resilience Program - How to Trade Well Through Uncertain Times
A highly commercial yet practical 4 session program that enables you to trade your retail business despite uncertainty & volatility.
About this event
Just as you are starting to emerge from two years of closures & shopping restrictions due to the Pandemic - you are now facing supply chain issues, inflation, rising costs and economic uncertainty.
As if Retail wasn't demanding enough!
An experienced and commercial retailer myself, I understand the pressure that independent retailers & businesses face. We are in the most dynamic and changeable business sector.
Therefore, the Retail Resilience Programme is designed to help you to trade and trade well, despite the difficulties, the demands & evolving complexities in modern retail business. If you are an independent business owner or senior leader - then this programme is for you. I want your business to thrive!
This 4 part digital programme ( Mondays in June - 6:30pm ) gives you everything you need for a thorough health check on your physical and/or digital business, as well as equipping you with great tools to drive your business forward and improve your trading.
Not only that, the Retail Resilience Programme will give you an edge over other businesses and help position you for long-term success. By the end of the program, you will have a fantastic toolkit alongside a robust plan to ensure your success!
The Retail Resilience Programme will show you how to WIN at Retail now and over the next few years. We will cover the following:
1. How to remaster the basics.
Thinking from the Customers point of view. Store experience & offering. Everything from display, layout, pricing etc. How to commercially health-check your business and ensure you're not leaving sales behind.
2. The retail landscape.
Who's doing what on the High St - new & not so newly emerging business models. How to future proof your business without huge expense. Also - how to ensure you also have focus on sustainability.
3. Reviewing your Channels.
Store v Digital. What channels to use for extra business income. eCommerce - What does next generation look like and how you can move towards this easily. Social: Picking your channels; content mix, content ideas. Social commerce: what to sell, where to sell it & when. This session is about omni channel in real and practical terms.
4. Managing High Performance.
'Putting your own oxygen mask on first.' How to drive the best results and outcomes for your retail business. How to build a highly engaged & high performing team. How to balance a great business with a great life!
Retail Resilience is a fun, interactive and energising programme that will leave you feeling inspired, and with a highly commercial and actionable plan for your business.
Session dates; Tuesday 7th June, Monday 13th June, Monday 20th June, Monday 27th June. Sessions run from 630pm -8pm
This is a limited place programme to ensure high impact and strong results for those that attend.
Check out the impact of previous programmes:
Restarting Retail - Attendee commentary:
'Retail Therapy for your Business'
'Informative & very easy to put into practice in any business'
'Lots of examples of what works'
'inspiring and gave me plenty to think about going forward.'
' a wee light went on for me, realising how much you can do even in a small business!'
'the entire course was full of relevant content & practical information that could be applied to a business immediately.'
' liked the overall positive tone, no doom and gloom but still very much grounded in reality.'
Building your Retail Battleplan - Attendee commentary:
'motivating, informative, realistic.'
'content was very strong & practical.'
'packed with useful, vital information and delivered in such a clear and concise manner.'
'the templates helped me put the advice into some order and refine my thoughts. All the advice was amazing. All in all it was fab, upbeat, well paced, very informative and great fun. Will miss it.'
'Very useful, lots of tools and supports provided along with expert retail industry knowledge.'
'There are huge challenges facing the retail industry now, and the creativity and agility being discussed is imperative to survival!'
Check out Miriam Simon Google reviews
About Miriam Simon:
An experienced Retail Strategist, Miriam Simon translates consumer trends and complex business strategy - into easy to digest and easy to implement actions that deliver powerful results. A self confessed retail nerd, Miriam is also a keynote speaker on future trends & consumer behaviour.
Her background includes senior and board level roles within brands such as TK Maxx, Monsoon Accessorize, Life Style Sports, and B&Q. Alongside this, Miriam has spent the last decade mentoring startups in the disruptive technology and med-tech space, and still works with the European Innovation Council in this field. Pre pandemic - she would often speak about future retail models and trends. Since the Pandemic - this has moved to seminars that are focused towards the SME retailer and how to survive and thrive. These workshops have received high acclaim, and 2020 into 2021, she worked with hundreds of retailers to support their success, despite lockdowns and closures.
A qualified and accredited executive coach, Miriam has studied corporate governance with the Institute of Directors, and is also a volunteer and the Vice President of Drogheda's Chamber of Commerce.