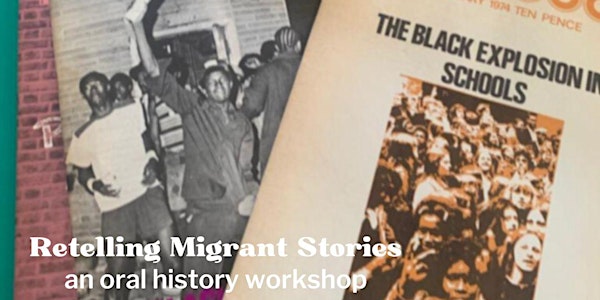 Retelling Migrant Stories: Workshop
Hosted by Éireann and I, this workshop will take place during the run of their exhibition entitled Reverberate. Lunch is included.
When and where
Location
Galway Arts Centre 47 Dominick Street Lower H91 X0AP Galway Ireland
About this event
The black framework of oral history can be used to share cultural knowledge and memory. It can also be used as a tool for remembrance and imagining towards a collective future.
This oral history workshop brings together archival and current media from Irish national media programmes, newspapers and collections from the Eireann and I archive. These materials highlight the public perception of black migrants, social and political issues which affect them within Irish media. Through conversation we invite participants to use their own personal memory and lived experiences to change, disrupt or actuate new narratives recorded about black migrants within the media.
There will be lunch provided for participants. This event is for self-identifying Black or Mixed-Race people, and people who have first or second-hand experiences with migration.
Retelling migrant stories is the second workshop in Eireann and I's Reverberate exhibition programme. Reverberate is an oral history project developed in collaboration with Eireann and I, a black migrant archive and members of Galway's African diaspora. The project invited Black migrants settled in Galway to recount their journeys to Ireland, their relationship with the city, and to reflect on whether they have developed a sense of belonging.