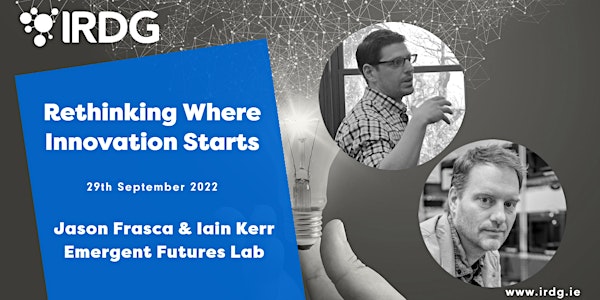 Rethinking Where Innovation Starts
Have we missed the critical half of innovation?
About this event
IRDG is delighted to bring you a special members-only complimentary virtual event with the internationally renowned, Emergent Futures Lab.
We are living in highly dynamic times — full of change, disruption, and uncertainty. We know that we need to innovate to meet the challenges of today and the ever more rapidly approaching future. But how do we innovate? Where does innovation start?
In this one-hour webinar and interactive discussion, Jason Frasca and Iain Kerr from Emergent Futures Lab challenge some of the harmful assumptions about early-stage innovation and begin to outline a new effective approach.
There is no charge for employees of IRDG member companies to attend this event, and multiple people are welcome. The link to join will be issued to all who register in the days prior to the session.
Contact Mary.Byrne@irdg.ie with any questions.