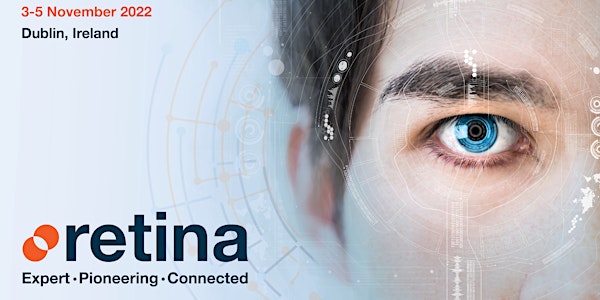 Retina Conference 2022: Register for attendance
Registrations are now open for Retina 2022, running November, 3 - 5. Book your seat now!
When and where
Location
Radisson Blu Royal Hotel, Dublin Golden Lane D08 VRR7 Dublin 8 Ireland
About this event
Registrations are now open for our award-winning Retina conference. After two years of successfully hosting the conference virtually, we are very excited to be back to an in-person event once again for Retina 2022.
This year, Retina 2022 will be running on November 3, 4 and 5 at the Radisson Blu Royal Hotel Dublin City.
The StarT Final Conference takes place on November 3, the Retina 2022 Scientific Day runs on November 4, and the Public Engagement Day takes place on November 5.
Scientific Day runs 9am - 5pm
Public Engagement Day runs from 10am-2pm.
We will be bringing together top international and Irish researchers and clinicians in the global effort to find treatments and cures for conditions causing vision impairment and blindness.
On Thursday, November 3, the StarT Final Conference will take place, hosted by Fighting Blindness in conjunction with Retina 2022. Our colleagues from the StarT project will present 14 ESR fellows from the StarT network who will present their PhD studies.
Tickets for the StarT Day are invite-only, however, there is the option to attend the event virtually.
Friday, November 4 is our fantastic Fighting Blindness Scientific Day and Saturday, November 5 will be our popular Public Engagement Day. While we hope to welcome you personally to our event, we are also aware that an in-person event may not suit everyone. We have virtual tickets available also for those who wish to attend the event online.
Scientific Day speakers include:
Professor Catherine Bowes Rickman, George and Geneva Boguslavsky Distinguished Professor of Ophthalmology and a professor of Cell Biology at Duke University
Professor Austin John Roorda, Herbert Wertheim School of Optometry and Vision Science, Herbert Wertheim School of Optometry and Vision Science, University of California, Berkeley, Berkeley CA.
Public Engagement Day speakers include:
Avril Daly is CEO of the patient-led global umbrella organisation, Retina International.
Ben Shaberman, Vice President, Science Communications at Foundation Fighting Blindness
Mr. David Keegan, Consultant at The Mater Hospital, Dublin, and a specialist in Ophthalmology.
Check https://www.fightingblindness.ie/retina-2022-speakers-and-agenda/ for more information on the full lineup of speakers.
Book today and secure your ticket for what is going to be another fantastic Retina conference!
The Radisson is providing a conference rate of €190 per night using the promotional code RETINA2022 for delegates. They can be contacted by emailing reservations.royal.dublin@radissonblu.com
Follow us on our social media, and spread the word, using the hashtag #RetinaDublin
If you need assistance registering please email research@fightingblindness.ie or phone +353 1 678 9004.
Retina 2022 is kindly supported by AbbVie, Novartis, Roche and Specsavers.