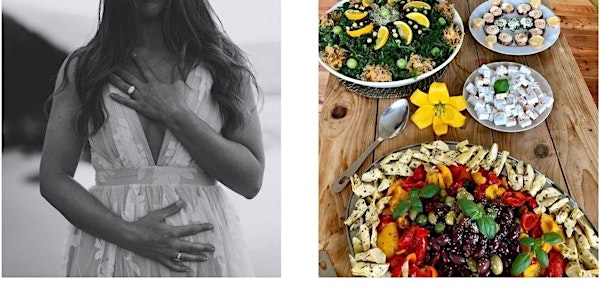 'Return to Centre' A luxurious day retreat for you to come home to yourself
Stillness. Simplicity. A day of rest, exploration and embodied presence in the beautiful, luxurious Georgian mansion that is Orlagh House.
By Cora Kingerlee and Mairéad Lucy Boland
Date and time
Sun, 26 Feb 2023 10:00 - 18:00 GMT
Location
Orlagh House Gunny Hill D16 VF38 Rathfarnham Ireland
Refund Policy
Contact the organiser to request a refund.
About this event
Use code IMBOLC25 to receive 25% off (save €100!) expires midnight Fri 10th Feb.
The retreat day includes an opening circle, cacao ceremony, meditation, morning stillness and presence workshop, a nourishing, colourful plant based lunch, (optional) 1-1 professional photoshoot, mirror work, afternoon workshop centered around emotional release, somatic movement and meditation, yoga, connected breathwork and integration practises. The day will end with all of the women gathered around a blazing outdoor fire overlooking the Dublin city lights.
To start with Cora Kingerlee of Ivy Rose Whispers will facilitate an opening circle followed by a grounding and nourishing cacao ceremony and morning workshop of stillness and presence.
For lunch - a nourishing organic, plant based & gluten free lunch prepared for us with an abundance of love by the fabulously gifted and renowned vegan chef Nicky Halliday
There will also be plenty of beautiful homemade snacks, luscious fruit and herbal teas served throughout the day.
There will also be time to wander around the Orlagh House grounds, down the winding lanes and trails through the forest.
Afternoon workshops - in the enormous bright and airy ballroom Mairéad Lucy & Cora will be beginning the afternoon intro to mirror work & photography workshop so you can float in & out to us from then on at your leisure. This is done individually, each woman will be invited in to us for about 10 mins for some 1-1 time with us, the mirror and the camera.
Post retreat - you will receive 5 photographs (digital downloads) and 1 physical print posted out to you, this will be a group photo as a beautiful reminder of the day that you'll always have!
~
In the grand drawing room, around a crackling and healing open fire the wonderful Danielle Darcy will be facilitating a soft, flowy, insightful and exciting workshop around yoga, breathwork, embodiment, integration sensual somatic movement & the inner marriage of masculine & feminine energies - not to be missed!
Closing circle - at 5pm we will all gather around an outdoor fire overlooking the Dublin city lights to end the day.
~
This day is for the woman who knows she's ready to meet herself here, she knows how to hold herself, but she also wants to be held. We have created this space for you.
This is a day to celebrate you.
For us to celebrate you.
But more importantly, for YOU to celebrate you.
We want this day to be a luxurious, relaxing, inspiring and nourishing day where you can feel fully yourself, learn to be comfortable in your own skin, re-learn that love for yourself that we so easily let slip through our fingers. The love that gets seemingly washed away by societal expectations, the busy-ness of modern-day life, and the conditioning around how you feel you should show up in the world.
A day to return fully home to yourself, no fluff, no wild shamanic meditative experiences. Simply being, receiving, accepting.
Loving and see yourself as others see you. The beautiful, kind, warm, loving, gentle being that you are.
Our intention for the day is to create an oasis to facilitate your returning to centre. Coming home to yourself.
What if you could learn to love your body, your sacred temple that's been with you your whole life? Your one constant companion.
What if your inner voice could come from a place of self-love?
What if looking in the mirror could be a beautiful moment for you to smile and offer a word or two of encouragement?
What if things could be different with how you see yourself?
What if you adored yourself, you loved your body, your bumps, lines and cellulite?
What if you saw every mark, every scar and loved them as they remind you of a past version of yourself, of something you've worked through? Mirroring back your inner strength.
When you peel back the layers, you come home to the real you, the authentic you, the you you were before the world told you who to be.
Stillness. Simplicity. Nourishment.
The afternoon Photography piece will be an opportunity for you to peer through the looking glass (the lens) and see yourself in a way that perhaps you never have before. In all your raw realness.
Our intention for this part of the day is to capture you in all of your most-centred, open, receptive, grounded, and empowered state.
If you've never done anything like this before and are perhaps feeling a little apprehensive, we want to assure you that it will be a super casual, warm and fun experience for you.
We are in constant awe of the healing art of photography in exploring your relationship with yourself, learning to see your individual beauty, stepping into your feminine power and igniting that relationship of deep love and connection to self.
Another option is to use them for your business - for personal branding on your socials or website, for example. Whether you're an entrepreneur, yoga teacher, healer, student...we can always do with capturing ourselves in whatever part of our journey we are currently embodying.
Post retreat aftercare:
Included in your ticket you also receive access to a zoom workshop 1 week after the event as a way to assist with integration and to support you with the process that will naturally unfold after a transformative day like this. This workshop is scheduled for 10am - 12pm on Saturday 4th March. This will be a beautiful workshop of integration via sharing circle, reflective journalling and meditation.
You also receive access to a Telegram support group (it's like whatsapp). This will be useful for lift shares, post retreat sharing and just general chats and community :)
This is a day for you. For your homecoming. Your returning to centre and to facilitate you arriving at your next level, this next chapter of your life.
We cannot wait to welcome you on the day!
Cora and Mairéad x