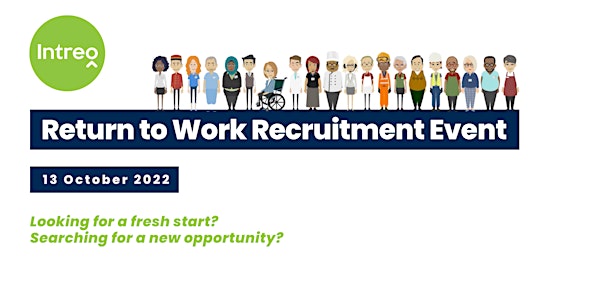 Return to Work Recruitment Event-Ballymun
Return to Work Recruitment Event, Ballymun Civic Centre 13.10.2022 10 am to 2 pm
When and where
Location
Ballymun Civic Centre Ballymun Civic Centre Ballymun Dublin Ireland
About this event
About this event
INTREO Employment and Support Services, from the Department of Social Protection are delighted to be holding a Recruitment Event in Ballymun as part of its "Return to Work Campaign".
The object of the event is to put Jobseekers and Returners in touch with employers who are currently recruiting.
We would like to invite you to attend this event where you will have the opportunity to chat to employers who are currently recruiting for various positions.
Ballymun Job Centre will also be there on the day providing invaluable advice to Jobseekers on CV preparation, interview skills and dealing with stress. These clinics are free and all attendees are welcome to use these services.
Registration
Please register for this event by clicking on the "Register" option above and select tickets for your preferred 20-minute time slot.
*It is important that you attend the recruitment event during your time slot to maximise the time available to explore the fantastic opportunities on offer.*
Please ensure that you bring your Public Services Card (PSC) or PPSN with you on the day for registration purposes.
For more information on these events please visit What's going on? - www.JobsIreland.ie
Local Transport Links
Public Transport
The Civic Centre is served by buses 4, 13, 17A and the new route 155.The bus stop for northbound routes from the city centre is bus stop number 94 opposite Ballymun Civic Centre. The bus stop for all routes when leaving the Civic Centre is bus stop number 112 and located directly outside the building.
Parking
Ballymun has plenty of daytime parking options. On-street parking is available on Shangan Road, and metered parking is available in the car park beside SuperValu. This car park has five accessible parking spaces available and there are traffic lights at the pedestrian exit to take you across the road to the Civic Centre.