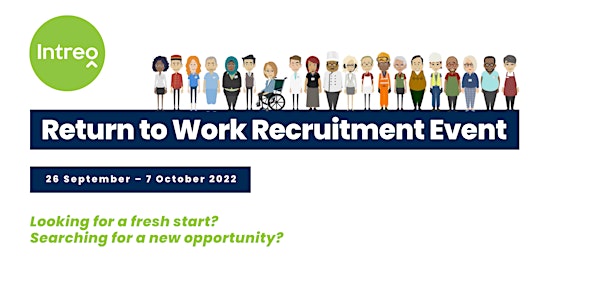 Return to Work Recruitment Event-Limerick
Return to Work Recruitment Event, Limerick, 10am-12pm 5th October 2022
When and where
Location
Riverstone House 27 Henry Street V94 RY7E Limerick Ireland
About this event
This event is being organised as part of the national 'Return To Work Campaign 2022'.
The focus of the Event is to assist jobseekers, (entering or considering returning to the workforce) by bringing local support agencies, training providers and employers together in a dedicated space. The exhibitors are mainly focused on helping you to further the skills you need to support you back to work.
Attendees will be given the opportunity to meet with support services and employers on a one to one basis.
This is a valuable opportunity to gather information & gain support in order to progress your chosen career plan. This plan could include:
• Employment (full-time/part-time)
• Return to Education-explore the many pathways
• Working within an Activation scheme based in your local area such as Community Employment schemes & TUS Programmes
• Setting up your own business
Take the opportunity to meet local employers from the retail, customer service and hospitality sectors who are actively recruiting staff. The event is an opportunity to show potential employers the skills you already have.
On the day please bring your Public Services Card or PPSN along with your CV.
For more information on these events please visit What's going on - JobsIreland.ie at https://jobsireland.ie/en-us/blog